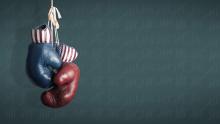 It's the season of hope.
We rely on hope as a force to inch us forward. No one wants to believe that our best days as individuals or as societies are behind us. Everyone wants to be a hopeful person. Or, at least, there are plenty of people out there eager to make sure everyone feels hopeful.
It's a season when we're urged to look for things — data, leaders, movements, promises, trends, exemplars — to provide the ground for hope. For others, it's a time for sarcasm and mockery.