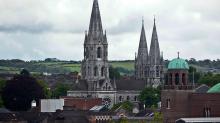 Oh, how I love the Irish. Sure, I'm biased, being half a Celt myself with legion cousins still living on the old sod. (Shout out to the Bradys and Caffreys in Ballyjamesduff!)
As a self-confessed Gaelophile, I've been following the various Irish Occupy groups on Facebook for several months now, and they are endlessly entertaining — and interesting. The Occupy movement in the States is, largely at least, missing at least one key component: A sense of humor. The Irish Occupiers seem to understand that you can catch a few more flies with honey — and a good laugh — than you can with angry chants and somber rhetoric.
When I heard about a surprising turn of events at the County Cork occupation last month, I thought, That's brilliant. On Christmas Eve, members of the Occupy movement in the southern city of Cork found a present underneath the Christmas tree in their Peace Park encampment. It was a package containing a letter from "Santy" Claus, which read in part, "Dear people of Cork: Inside is a present, a gift from me to you, from all of us here at the North Pole."
The gift package also held the key to a padlocked, vacant, seven-story office building in the city center, and a list of instructions.