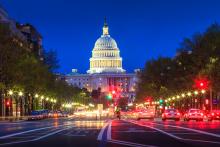 While a new Congress relentlessly pursued its ideological agenda to trim government and reward its big-money patrons, a vastly more complicated world intruded:
In Maryland, a bishop reportedly driving drunk struck a bicyclist, fled the scene while he lay dying and, according to some reports, returned only after a church official told her she had to do so.
In Paris, a handful of religious terrorists defended the Prophet Muhammad by slaughtering the staff of a satirical magazine.
In Nigeria, the Islamic extremist group Boko Haram intensified its systematic massacring of Nigerian citizens.
In New York City, police officers wanting more respect from the new mayor waged a childish campaign of disrespect against the mayor and against the people of New York.
In Washington, the latest jobs report showed more jobs being created but no gains in pay. That means the lower and middle classes continue to be dragged down by up-with-wealth political actions.
All this in a week's time, all while Congress was pursuing a stale ideological agenda dating back to the 1930s. In that agenda, legislators would gut Social Security (take that, FDR), reward big oil with a new pipeline (thanks for the patronage, Koch brothers), chip away at Affordable Care (gotcha, Barack) and appease social conservatives.
They would treat the world as a simple place where government must shrink, people must suffer and the precious few must get richer.