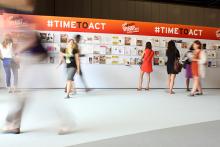 Religious leaders from across Africa and England came together Wednesday to discuss the role clergy should play in preventing and responding to sexual violence.
The panel was part of the three-day Global Summit to End Sexual Violence in Conflict co-chaired by Angelina Jolie, the special envoy for the U.N. high commissioner for refugees. Jolie made an unannounced appearance before the event, causing attendance to surge and preventing several dozen participants from entering the crowded conference room.
In a pre-recorded video message, Archbishop of Canterbury Justin Welby started the session by describing some of the positive developments he observed firsthand on a recent trip to the Democratic Republic of Congo.
"Historically there has been a culture of impunity," he said. "Faith leaders are challenging that culture fiercely and saying that rape and sexual violence in war is absolutely unacceptable and will result in consequences."