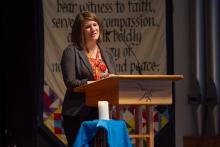 You can certainly get community outside of church, says bestselling author and blogger Rachel Held Evans, but that doesn't mean it's not worth being part of a church community.
"Church forces us into relationship with those who are different than us," Rachel told Sojourners. As a follower of Christ, she said, I have to be ready and willing to be in community with those who are different than me.
I recently caught up with Evans at Eastern Mennonite University in Harrisonburg, Va. It was her ninth public appearance in the eight weeks as she bounced from Texas and the Midwest to the East Coast and back to Texas, with a foray to Michigan.
Rachel has made her career out of vocalizing what others are feeling, but can't articulate quite as clearly.