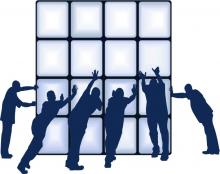 Imagine the moral authority that church leaders could exercise if they turned their eyes outward to a needy world, rather than endlessly surveying the insider crowd for what they want and are willing to pay for.
Imagine if we allowed worship to change in order to make it more accessible to the world. Imagine devoting our resources to reaching younger adults and families seeking fresh purpose in a stale world. Imagine buildings being re-purposed for community needs. 
Imagine a church that was giving itself away to the "least of these." And when givers push back, imagine lay and clergy leaders saying boldly, "This church isn't for sale. We have a larger purpose than keeping you happy and comfortable. This church isn't about us. It is about God and the next people whom God is trying to reach."