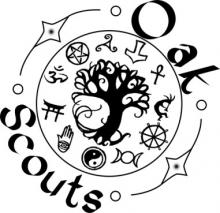 As the Boy Scouts of America gets ready to admit gay youth, one Missouri organization has already broken away, but not because it favors tradition.
Oak Scouts is designed to be a safe space for everyone, regardless of faith or sexual orientation.
It all started when Kerry Kasten began guiding children's meetings at a nature preserve and nondenominational Shamanic Wiccan church in Boonville. The more Kasten met with the children, the more she realized the need for a new type of scout troop.
"I realized there are all these parents out there who were not wanting to go into the mainstream scouting program due to disagreements in faith and sexual orientation," Kasten said. "They wanted to go somewhere they felt safe being gay or pagan or not mainstream and express how they felt."
On Wednesday, the Boy Scouts of America will begin accepting openly gay youths, a historic change that has prompted some churches to drop their sponsorship of Scout units because of the new policy.