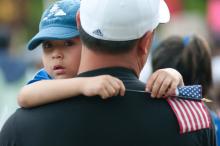 As Christians around the world gathered for Good Friday and Resurrection Sunday celebrations last weekend, I have  reflected a great deal about the connection between the suffering and passion of Christ and the plight of the undocumented in our nation.
This past year, an amazing surge of activity and concern has emerged among believers in general, and evangelicals in particular focused on passing a new immigration policy in our country. This development is quite a surprise and change. In fact, 10 years ago it was almost impossible to find a recognized evangelical leader who was knowledgeable about immigration, let alone one who was willing to speak out on this issue.
At the core of why evangelicals have made such a dramatic change of heart is the reading of Scripture. While it is impossible to ignore that there are 92 references in Scripture where the word, 'ger' is used, speaking about the stranger in our land and our treatment of these individuals, it is not one single verse but the entire revelation of Scripture that points us towards our responsibility to love the most vulnerable people in our society.