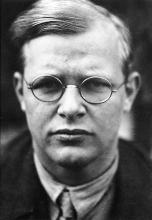 A new biography is raising questions about the life and relationships of Dietrich Bonhoeffer, an anti-Nazi dissident whose theological writings remain widely influential among Christians.
Both left-leaning and right-leaning Christians herald the life and writings of Bonhoeffer, who was hanged for his involvement in the unsuccessful plot to assassinate Adolf Hitler in 1944. Bonhoeffer was engaged to a woman at the time of his execution, observing that he had lived a full life even though he would die a virgin.
The new biography, Strange Glory: A Life of Dietrich Bonhoeffer, from University of Virginia religious studies professor Charles Marsh, implies that Bonhoeffer may have had a same-sex attraction to his student, friend and later biographer Eberhard Bethge.
"There will be blood among American evangelicals over Mr. Marsh's claim," Christian Wiman, who teaches at the Yale Institute of Sacred Music, wrote in a review for The Wall Street Journal. But there's been no bloodbath yet, at least considering a few initial reviews.