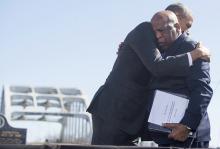 The Edmund Pettus Bridge was named after a Confederate general who became a Grand Dragon in the Ku Klux Klan. His name, still emblazoned over the top of that now famous bridge, was a powerful and threatening symbol of white power and supremacy in Selma, Ala. The Student Non-Violent Coordinating Committee (SNCC) had at one time removed Selma from their list of places to organize because "the white folks were too mean, and black folks were too afraid."
But that didn't deter a group of courageous African Americans from marching across that bridge a half-century ago, risking their lives for the right to vote in America. They were attacked and beaten by the fierce forces, led by notorious Sheriff Jim Clark, for their resistance to the frightening violence of white power.
Last Saturday, during the 50th anniversary event of "Bloody Sunday," I spent many hours just looking at that bridge. The words that kept coming to me were "courage" and "resistance." My question became: what bridge we will now have to cross?
Congressman John Lewis, whose skull was cracked that day as a young man, opened the main event.
"On that day, 600 people marched into history … We were beaten, tear gassed, some of us [were] left bloody right here on this bridge. … But we never became bitter or hostile. We kept believing that the truth we stood for would have the final say."
Then Lewis introduced the president, "If someone had told me, when we were crossing this bridge, that one day I would be back here introducing the first African-American president, I would have said you're crazy."
What happened on this bridge, President Barack Obama said, "was a contest to determine the meaning of America," and where "the idea of a just America, a fair America, an inclusive America, a generous America … ultimately triumphed."