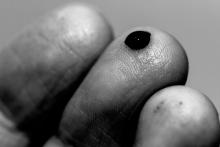 Don't you hate it when you accidentally slice the tip of your finger on one of your knives and the cut is deep enough to draw blood? Or when one of the cats gets a little too playful with the claws and you're soon looking for a bandage?
Nobody likes to bleed, even though bleeding is part of life. To live is to bleed. If we're not bleeding, we're not living.
We all bleed lots of times, in lots of ways. We skin our knees and scrape our emotions. We often have to head for the medicine cabinet for a bandage. Sometimes, we feel like we need a tourniquet.
There are the little, daily cuts that we all get. Someone says something that hurts our feelings. Something doesn't turn out the way that we'd hoped, and we get discouraged. A project that we've invested so much of ourselves into gets rejected, and we feel rejected, too.
It happens all the time.
Sometimes, we wind up with a deep spiritual cut that needs to be stitched closed with the help of others. A relationship ends. A job disappears. A tumor appears. A storm blows through our neighborhood and destroys what we've built over the years.
I admire those who learn not only to accept the blood-stained moments, but to embrace them. They develop a capacity to see beyond the momentary hurt. They recognize that bleeding is part of the grand process of life.
And they bleed joyfully.