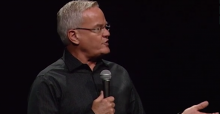 Bill Hybels, Senior Pastor for Willow Creek Community Church, spoke out last week on the ongoing Ferguson protests. In the video, shared this week by Willow Creek Church-affiliated artist group The Tungsten Collective, Hybels calls on people of faith to listen to the pain and hurt expressed by many since the August shooting of Michael Brown.
He quotes James 1:19, urging people of faith to "be quick to listen, slow to speak."
Hybels has spoken out on racial reconciliation for years, and here underscores one reason why reconciliation work is often so difficult.
"It's just so much easier to live in your own story than it is to try to understand the narrative of the other," Hybels said.
Indeed, when it comes to interactions with law enforcement, the black experience and the white experience in America are "two totally different narratives [that often] … don't touch each other until a Ferguson happens," he said.
At one point the megachurch pastor emphasizes — almost uncomfortably lightheartedly — just how untouched he's been by fear, crime, and violence in his neighborhood.
"[Peace] is all I've ever known. I've never had a single adversarial experience with a law enforcement officer in my entire life," he said.
But in drawing a distinction in the difference of experience, he echoes a Jia Tolentino column in TIME earlier this fall on how social divisions are revealed based on which evils we mourn and pledge to fight against. While Hybels falls short of explicitly naming a power and privilege differential, he urges humility, listening, and seeking understanding among people of faith — all the more resonant today after the non-indictment ruling on the choking death of Eric Garner.
WATCH the full video here.