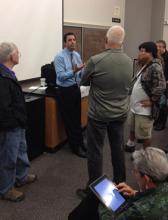 Move over, Christian televangelists. Atheism is coming to television.
Speaking at a gathering of local atheists, humanists, freethinkers, and other nontheists in a chemistry lecture hall at Stanford University, David Silverman, president of 
American Atheists
, a national advocacy group for nontheists, announced Tuesday (May 6) that his New Jersey-based organization would launch the first television channel dedicated to atheism in July.
"Why are we going to television?" he asked the audience, a mix of about 100 students and people from the local community. "It's part of our strategy of going where we are not."