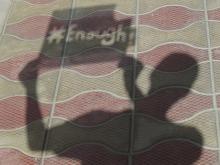 Tall, lanky, cheerful, and confident, Esmatullah easily engages his young students at the Street Kids School, a project of Kabul's Afghan Peace Volunteers, an antiwar community with a focus on service to the poor. Esmatullah teaches child laborers to read. He feels particularly motivated to teach at the Street Kids School because, as he puts it, "I was once one of these children."
Esmatullah began working to support his family when he was 9 years old. Now, at age 18, he is catching up on school.He has reached the tenth grade, takes pride in having learned English well enough to teach a course in a local academy, and knows that his family appreciates his dedicated, hard work.
When Esmatullah was nine, the Taliban came to his house looking for his older brother. Esmatullah's father wouldn't divulge information they wanted. The Taliban then tortured his father by beating his feet so severely that he has never walked since. Esmatullah's dad, now 48, has never learned to read or write. There are no jobs for him.