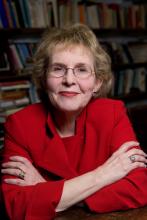 Christian ethicist Jean Bethke Elshtain, a scholar who shaped national conversations on war and peace from her perch at the University of Chicago, died Sunday at age 72.
She had two heart attacks in 2012 and, according to the school, she had another "cardiac incident" earlier this summer that led to her death.
The widely admired political philosopher regularly wrote and lectured on ethics, politics, and religion. She defended American military intervention in Iraq and Afghanistan using "just war theory," a position that suggests there are times when it is necessary and perhaps right to go to war.
When a hundred scholars and ethicists signed a petition that read, "As Christian ethicists, we share a common moral presumption against a preemptive war on Iraq by the United States," Elshtain argued the opposite, publishing the book Just War Against Terror in 2003.