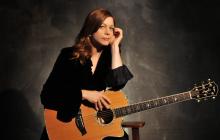 In her inimitably lovely way, Carrie Newcomer, the Quaker singer-songwriter, tells the story of June and Emmett and their children gathered at their Christmas table to sing carols and celebrate the birth of Jesus Christ in her should-be classic, "Long Christmas Dinner." It's a celebration of simple pleasures and the powerful quotidian blessings of family, hearth and home.
It's a quiet, soul-stirring tune with images so vivid and familiar they stay with me throughout the year.
We asked Carrie what her favorite Christmas song was and this is what she said...