POPULAR CULTURE PLAYS an important role in shaping our view of the possible. Ta-Nehisi Coates, author of Between the World and Me, for years wrote Marvel's Black Panther and Captain America comics. "I think we don't always realize the extent to which the culture actually interacts with politics," Coates said on Ezra Klein's podcast. "I could advocate for all of the policies in the world ... but it really, really occurred to me that there's a generation that is being formed right now that's deciding what they will allow to be possible, what they will be capable of imagining. And the root of that isn't necessarily the kind of journalism that I love that I was doing, the root of that is the stories we tell."
In this issue, sojo.net associate news editor Mitchell Atencio looks at some of those stories — in particular, superhero comics — and explores what is not being told, and how pop culture often avoids grappling with the way our country approaches issues such as policing and incarceration. That failure has consequences far beyond the DC and Marvel universes.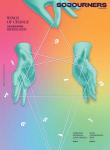 This appears in the June 2023 issue of Sojourners
Got something to say about what you're reading? We value your feedback!