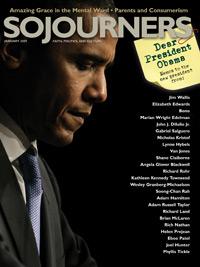 Magazine
Sojourners Magazine: January 2009
Subscribe to Sojourners for as little as $3.95!
You've read the experts' memos to Obama. Now see our readers' photo memos.
10 simple steps to desegregating your Web site.
A conversation with Emmanuel M. Katongole, co-director of the Center for Reconciliation at Duke Divinity School.
Jacob Bathanti, reads his poem and shares how a friend's return from war made him long for peace.
Writer Valerie Weaver-Zercher on how to raise kids without "branding" them.
Looking for Christmas gifts for kids? Here is a list of great kids books.
With his sock puppet friend, Ed Spivey Jr. takes on the economic crisis, former Lehman Brothers CEO Richard Fuld, and ... muffins.