Posts By This Author
Fast for Families: Voters in Steve King's District Thank Immigration Fasters
12-04-2013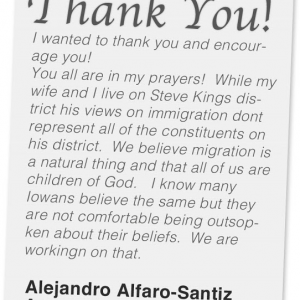 As the least productive Congress in history begins to wind down its first legislative session, immigration reform is coming to a boil.
It's already been 160 days since the Senate passed its immigration bill and the House already has 191 co-sponsors on its bipartisan bill. Still, House Republicans have failed to take the next step and have only voted on one immigration provision so far this year — Steve King's (R-Iowa) amendment to defund DACA and deport DREAMers.
And with King (most famous for saying young immigrants have "calves the size of cantaloupes" from lifting 75 pound bags of drugs across the border) at the helm for Republicans on immigration, it's no wonder that they're getting nowhere on immigration.
But the tragic irony of all of this is that King's own constituents (myself included) overwhelmingly support immigration reform. Recent polling by The American Action Network, a conservative outside group, shows that 79 percent of voters in his district support the tenets in the Senate Gang of Eight bill. Despite that popularity, King and his shrinking list of allies in the House have kept Speaker John Boehner (R-Ohio) from addressing the moral crisis afflicting millions of workers, children, mothers, and fathers.
Faith Leaders Target Alabama's Immigration Bill With Ad
04-04-2012
Yesterday, a diverse group of faith leaders in Alabama released a television ad targeting Alabama's HB 56 -- the worst anti-immigrant law in the country.
The 30-second ad features Rev. Steve Jones, senior pastor at Southside Baptist Church in Birmingham.
''We believe in reaching out and ministering to our community. Yet under Alabama's immigration law, we could be prosecuted for following God's call to be good Samaritans," Jones says in the ad.
Watch:
Being There
12-01-2010
A reluctant uncle witnesses the home birth of his nephew.
Native Americans vs. Nazi Sympathizers: The Bizarre Backstory on Changing an Offensive University Mascot
04-16-2010
After almost a
century
of debate and a four-year-long legal battle, the North Dakota Board of Higher Educat
Video Interview with David Bazan
, 02-01-2010
Since 1994, David Bazan has put sharp questions about faith, justice, and his Pentecostal-evangelical upbringing front and center in his songs.
Video Interview with Vincent Harding
, , 01-01-2010
An Interview with Morgan Spurlock
, , , 01-01-2010
Documentary filmmaker Morgan Spurlock is not afraid to get messy.
Video Interview with Don Miller
, , 01-01-2010
Video Interview with Michael J. Sandel
, 12-01-2009
Harvard professor Michael J. Sandel is used to playing to large crowds—his undergraduate course on justice enrolls more than 1,000 students each year.
Watch a How-To Video on Composting with Worms
, , 12-01-2009
Sojourners editor Jim Rice and his family have been composting with worms for more than a decade. In this video how-to, he shares 7 steps to composting with worms.
How To Build a Memorial Prayer Altar
, , 11-01-2009
Remember your loved ones this month with this beautiful prayer altar
Ed Spivey Jr.'s Latest H'rumphs Video
, 09-01-2009
"This month's cover story is about sex, and there is nothing I can add to the topic that would not violate the rules of my parole, except to mention that a Nevada senator—who single-han
Ed Spivey Jr's Latest H'rumphs Video
, 08-01-2009
With all the mixed signals we've been getting these days about the use of torture, it's hard to know what to believe.
H'rumphs Video with Ed Spivey Jr.
, 06-01-2009
Ed Spivey Jr., Sojourners magazine's award-winning art director and humor columnist, laments his rapidly shrinking newspaper and considers the future of the 24-hour news cycle.
H'rumphs Video
, 05-01-2009
I hold in my hand a printout of the e-mail I just received from Barack Obama.
Audio Slideshow with Dag Soderberg
, 04-01-2009
What happens when a Swedish ad executive sets out to make the New Testament relevant to a postmodern generation of media-drenched Westerners? Bible Illuminated: The Book.
Ed Spivey Jr.'s H'rumphs Video
, 04-01-2009
Vote in the M2EP FilmMaker Challenge
02-26-2009
Tips on Bridging the Persistent Digital Divide
02-03-2009