Vincent G. Harding, professor emeritus at the Iliff School of Theology and co-founder of Veterans of Hope Project, is a historian, author, and activist who has participated in movements for nonviolent social change since the late 1950s. He sat down with assistant editor Jeannie Choi for an interview about the significance of the Obama administration and the need for true reconciliation within the church.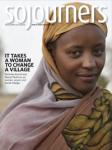 This appears in the January 2010 issue of Sojourners
Got something to say about what you're reading? We value your feedback!