Patrick Murphy knew things were never going to be the same again when he closed the doors to his migrant shelter in Tijuana, Mexico, for the first time in the shelter's 32-year history.
Casa del Migrante had taken in more than 260,000 migrants over the course of those years, everyone from single deportees to entire families seeking asylum.
But in March, the coronavirus thrust shelters and migrants along the 2,000-mile border into uncharted waters when it began spreading across the U.S. and Latin America. Fearing an outbreak, Murphy chose to temporarily close the shelter and adapt onsite care for the 27 migrants living in their facilities that month.
"The big, big risk in Tijuana is that somebody comes, and if they're sick, where do I send them? There is no option," he said. "The general hospital won't take them unless they're a certain level of sick, they have to be severely sick, so there is no structure here."
Like the U.S., Mexico has seen cases of the virus skyrocket since March. Tijuana, a border city just south of California, has the second highest numbers outside of the capital, Mexico City, with nearly 4,000 active cases and more than 800 deaths.
While shelters like the Casa fear that their facilities could become potential sites of outbreak of the virus, migrants feel the ripple effect as many survive with just a fraction of the aid that acts as their lifeline on the border. Many of them are asylum seekers sitting in limbo under the Trump administration's "Remain in Mexico" policy, which requires asylum seekers to wait in Mexico for their cases to be heard.
To address the humanitarian impact of the crisis, Murphy's shelter, along with others across the region are adjusting their services.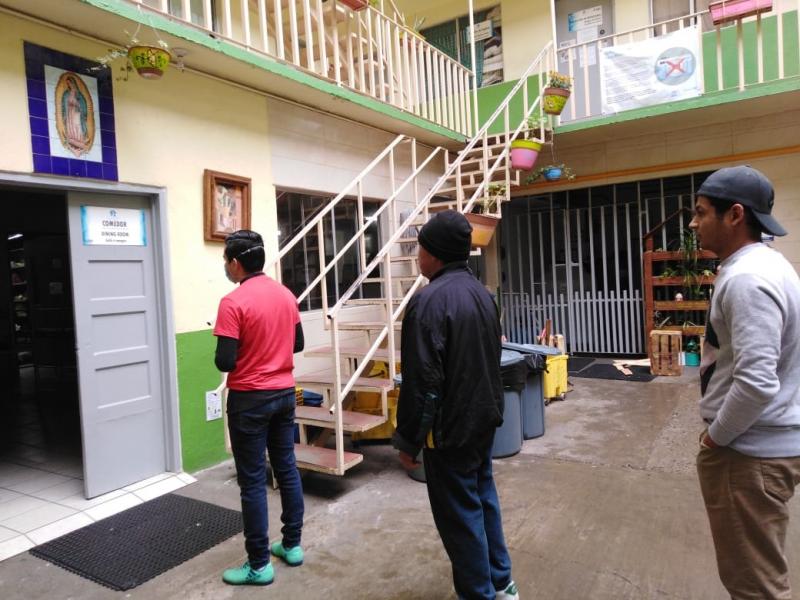 For the Casa, that has meant collaboration. In order to accept new migrants, they are working with other aid organizations to build a phased system in which asylum seekers and deportees quarantine for 14 days in a hotel on the border before entering the refuge. Murphy said they're also sharing food donations with other shelters and keeping in regular contact with the network of aid organizations to determine the best way to navigate the situation together.
The Casa has also amped up sanitary precautions and drastically reduced shelter capacities to comply with social distancing, something Murphy said will likely continue until the shelter feels sure that there won't be an outbreak.
When they temporarily closed the doors to their shelter, Murphy said they began to deliver meals to the people they couldn't accept. With new coronavirus-related migration policies by the Trump administration further clamping down on migration and without resources, some migrants, many from Central America and Mexico, have chosen to leave the border. Those who have stayed, largely migrants from countries like Cuba, Venezuela, and Haiti, do not have the option to return to their country.
"I call them baby steps of embracing the new norm because things will never be like they were before," he said. "We have to learn as we go, there's no doubt. We take all the precautions we can, but no system will be foolproof."
The measures they take could mean life or death for asylum seekers like José, whose last name is being withheld for his safety.
The 38-year-old Venezuelan fled his country with his wife and 5 and 11-year-old sons after he was politically persecuted. The family arrived at the border 10 months ago to seek asylum in the U.S. and have lived in Nogales, Sonora, to comply with "Remain in Mexico" requirements. They are among 5 million others who have fled the country in recent years. Over 650,000 have come seeking asylum from violence and political persecution worldwide. Many more have been victims of targeted violence.
But the family has lived in fear since José was kidnapped and assaulted by a gang trying to force him into paying thousands of dollars to smuggle his family across the border into Arizona. He worries even walking outside. When the coronavirus hit, that concern only multiplied as the small pieces of stability they managed to achieve vanished.
"We are scared of the danger of these armed groups, and we're scared of coronavirus," José said. "Here, we live in terror."
In Mexico, they have relied heavily on aid organizations, living in refugee shelters, eating at the Nogales-based migrant kitchen, Kino Border Initiative, and using the initiative's legal services to navigate the ever-changing labyrinth of the U.S. asylum system under the Trump administration.
The processing of asylum cases like José's have all but ground to a halt, and the Trump administration announced that they were going to "indefinitely" extend heightened restrictions on migrants, including asylum seekers. Despite being protected under international law, it was already almost impossible to be granted asylum in the U.S.
With the lockdowns, José lost the job he relied on to pay for the small apartment they live in. The family is on 24-hour quarantine because José's sons are asthmatic. The only reason they have food to eat, he said, is because Kino's migrant kitchen has continued operating. The local church paid the family's rent for the month.
"These organizations have given us a lot of help, and we haven't felt so alone," he said. "It's lifted us up not just economically, but morally."
Like Murphy's Tijuana-based shelter, Kino has catered to migrants on the border for years. Its soup kitchen was once packed with asylum seekers and the organization offered medical and legal consults.
They've raced to adapt as U.S. migration law has tightened under the Trump administration in recent years, said Katie Sharar, a leader at Kino. Now, as the coronavirus hits, they are doing the same.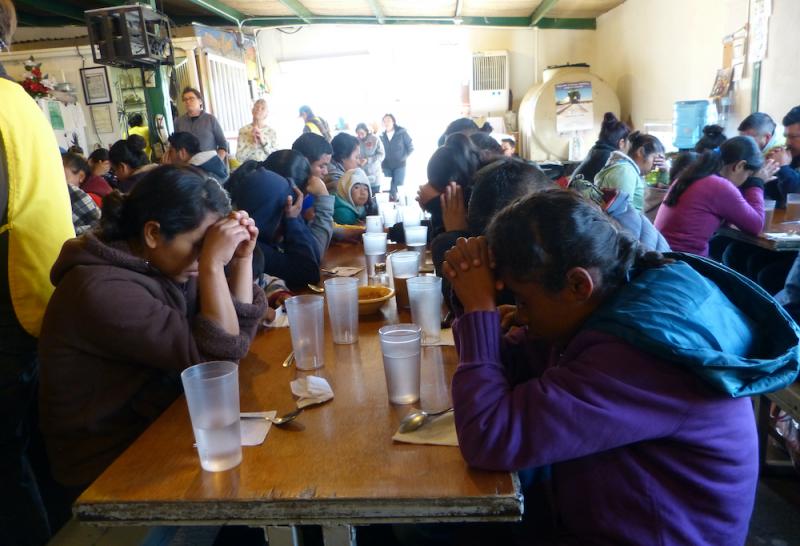 They deliver a week's worth of food to families in quarantine, while a fraction of the volunteers they once worked with sit 15 feet apart chopping vegetables in their kitchen. They continue to provide legal services remotely over phone and video calls.
They've taken extreme measures to curb the risk of infection among both their staff and the people they serve. Any outbreak could mean disaster for the increasingly vulnerable populations they serve.
"They're kind of one in the same really: to protect migrants is to protect ourselves, and to protect ourselves is to protect migrants," Sharar said.
In Tijuana, Murphy's shelter faces similar fears. Their refuge once housed as many as 160 people. Now as they cautiously open their doors, they don't plan to host more than 75 at a time.
Like Kino and other organizations Sojourners spoke to, they face mounting costs of providing aid, everything from heightened sanitary precautions to hiring a staff doctor. Murphy worries about how they will prepare the migrants in their care for an uncertain future, but says the key is facing what's ahead little by little.
"We're not optional. We can't close our doors forever," Murphy said. "We've had these two months to deal with it. Now we have to think about what we're doing, try and help a few people with time, then a few more, then a few more, then a few more."
Got something to say about what you're reading? We value your feedback!