The sun beats down on McAllen, Texas with a ferocious intensity, the kind of suffocating heat that makes even standing in the shade an exhausting trial. The weather's inhospitality mimics that of the U.S.-Mexico border; barbed wire is ubiquitous, as are Border Patrol and Immigration and Customs Enforcement (ICE) agents decked out in military gear that, to the casual observer, begs the question of how additional security could be necessary. Just to the south, the border slices through the community — a seemingly arbitrary 40-foot fence separating one resident's house from their neighbor's. The only thing more striking than the intensity of all this security, however, is the palpable need of the people it's designed to keep out.
Last week, I joined a delegation of 14 women faith leaders, organized by Faith in Public Life, to speak with refugees and community activists about our government's treatment of immigrants at the border. We went expecting to encounter a community's pain, but I don't think any of us were prepared for the trauma we found, nor the fierce resistance of those standing up for migrants' humanity.
In downtown McAllen sits Catholic Charities of the Rio Grande Valley, the first stop for many asylum seekers released from local detention centers. The one-floor stucco building is about the size of a fast-food restaurant, yet its crew of nuns and volunteers often serve as many as 400 refugees daily before they depart to reunite with family elsewhere in the country.
Around 4 p.m. each day, waves of migrants arrive on foot; most carry nothing but their children. Many have spent days in cold warehouses, often fed only a single bologna sandwich every 24 hours. By comparison, even the respite center's meagre accommodations bring visible delight.
"What we do initially when they arrive is just welcome them, show that we care for them," said Sister Norma Pimentel, who runs the CCRGV. "We acknowledge their pain and suffering, and we tell them they are not alone."
The center then offers them food, clean clothes, a chance to see a doctor, their first shower in days, and opportunities to call family before they depart.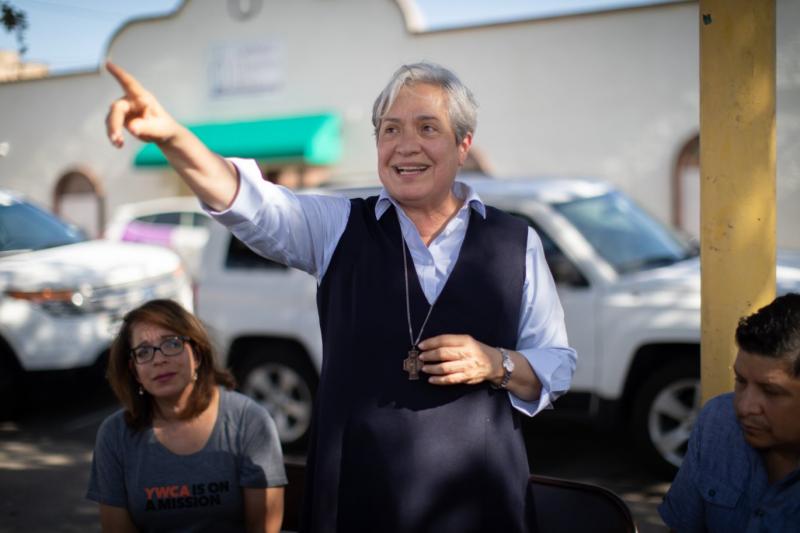 Though this brief stop is welcome, it is clearly insufficient to address the trauma these migrants carry, both from violence in their home countries and their treatment at the hands of our own. Ask 12 people about their journey to the U.S., and you'll get a dozen heartbreaking stories: Edwin fled Honduras when his father was murdered; Marta left Mexico because of cartel threats; Maria and her kids sought asylum from El Salvador because she was afraid gangs would kill her children. When I asked Maria if they were scared in the detention center, she replied, "Yes, but not as scared as we were at home."
Even a few minutes in the center highlights the massive crisis that has unfolded on our Southern border.
"It's totally despicable that the federal government, with all of its resources, cannot be as humane as a five-room respite center in a borrowed building one block south," Suzii Paynter, the executive coordinator of the Cooperative Baptist Fellowship, said after leaving. "It is a travesty … a parable of our wealth being used to inflict deprivation on families when it's so clear that the most modest of attempts for hospitality can be done instantaneously."
The ordeal these families face actually represents a best-case scenario for migrants seeking asylum. When we visited the federal immigration court in nearby Brownsville, we saw many sentenced to months or years in detention centers for illegal entry, despite their own often-tragic circumstances. One man's house had been destroyed in an earthquake that also injured his wife; he came trying to pay her medical bills. Another man attempted to cross the border seeking work to cover his grandmother's dialysis payments.
Some also reported mistreatment while they were detained. One woman came limping into the courtroom — her leg was broken in an accident — and said that not only had she not received medical attention in the detention center, but that they had deprived her the cane she had been using when she was forced to walk in shackles to the courthouse.
Above all of this floats the specter of family separation, thousands of missing children hanging in the air like ghosts. Though Trump's recent executive order flipping his own policy stopped more children from being separated from their parents, many are beginning to doubt whether many of those already taken will ever be returned.
Community organizers, advocates, lawmakers, and experts are concerned that the Trump administration has not maintained the kind of meticulous records that would allow them to accurately track the children as they were dispersed around the country. Moreover, the extremely young age of some of the children makes this a tricky job even for an administration that sincerely desired to unify families they broke. The Trump administration has not released a detailed plan for how they intend to counter these challenges, nor do they appear in any particular haste to do so despite a federal judge's recent ruling that required reunification within 30 days for children separated from their families and within 15 days for children under 5.
"[I think] it's going to be very difficult to reunite them. I'm not sure how many families will get their child back," said Sister Pimentel. But she added that, even for those few who have been returned, a long road to recovery lies ahead:
"The children that were separated have been traumatized."
Rev. Dr. Iva Carruthers, the general secretary of the Samuel Dewitt Proctor Conference, believes that trauma was the clear intent of the Trump administration.
"One of the weapons of mass destruction for those who are intent on retaining hegemonic power has always been to destroy the family, because it represents the very foundation of spirit — the life force, really — of a community," she said.
"It's not a new strategy," Carruthers added, saying that listening to accounts of family separation evoked our nation's abuses throughout centuries of chattel slavery: "In the profound, historic, iconic speech of Sojourner Truth, in which she said 'Ain't I a woman?' she raises up the pain, the anguish, the trauma of having lost all of her five children to the auction block."
If the Trump administration intended to inflict trauma, those actions are having the desired effect. Many community members I spoke with shared horrific stories about the preceding weeks.
"When the bus would pass by, you'd see children banging on the windows, putting their hands on the windows," said Abraham*, who organizes with La Unión del Pueblo Entero (LUPE), a local immigrant advocacy group. Abraham confessed the issue cut particularly close to home for him because, when he was 8, he was apart from his mom for months when she was detained by ICE.
"It was horrific to be separated from my mom," he said. "Being separated, not knowing where your mother is, when she'll be back, if you'll ever see her again — it's inhumane."
Abraham's story stands as a reminder that this type of behavior at the border is not new, but locals say that President Trump's dehumanizing rhetoric and Jeff Sessions' zero-tolerance policy have exacerbated migrants' suffering. Indeed, LUPE organizer Tania Chavez said the administration's racism has worsened a less-discussed human rights crime at the border: ICE and Border Patrol agents killing unarmed migrants. Chavez spoke to me at a community vigil for Claudia Patricia Gómez González, a 20-year-old woman who, on May 23, tried to enter the U.S. to go to accounting school but was instead shot in the head by Border Patrol.
"Under no other administration have we seen so many deaths from Border Patrol and ICE," Chavez said. "People are coming here as refugees … and we welcome them with a gun."
Chavez was unambiguous in explaining the cause behind the rising death, pointing to the Trump administration's rhetoric toward immigrants and explaining that it's difficult to force agents to treat migrants humanely when the president describes them as animals.
***
Gloria Anzaldúa famously referred to the U.S.-Mexico border as una herida abierta — an open wound. Our trip made it clear: This wound is not only deeper than ever, it's positively gangrenous. Again and again, we witnessed the herida abierta of which Anzaldúa wrote.
But if the border is a wound, then perhaps we can best describe our nation as doubting Thomas before his encounter with Christ. Despite daily headlines of horrific treatment of immigrants under the Trump administration's policies, the president's polling numbers have held steady. People may see the wound revealed on the news, but they have not touched it or — more to the point — been touched by it enough to withdraw their support.
Rev. Jennifer Butler, executive director of Faith in Public Life, says she feels clergy have an important role to play in forcing their congregations to confront this deep anguish: "We're complicit every time we fail to educate our congregations and move them along incrementally to understanding what the true gospel is all about," she said. "We're complicit when we allow others to abuse Christianity by using Christianity to abuse other people."
According to a 2015 LifeWay Research survey, few evangelicals say that their faith directly influences their views on immigration: When asked which factor most influenced beliefs about immigration, only about one in 10 chose the Bible and only 2 percent named their church. But the research also found that many are simply not hearing about it in church: 68 percent of evangelicals surveyed said their church has never encouraged them to reach out to immigrants. The women faith leaders at the border believe ministers have a unique opportunity to influence congregants' thoughts about immigration because of both the moral authority they're granted by their communities and the Bible's unambiguous call to welcome migrants.
Rev. Maria Swearingen is the co-pastor of Calvary Baptist Church in Washington D.C., a congregation with many immigrants from El Salvador. She says this year has been difficult for their community, particularly in the wake of President Trump's decision to revoke Salvadorians' temporary protected status — which had been in place and regularly extended since devastating earthquakes in 2001 — effective September 2019. In response, Swearingen frequently uses her pulpit to invite congregants to envision a moral future.
"That wound could be a balm, it could be a place of healing, a place of community, a place of restoration," she said. "We have to invite people to have their imaginations converted, to be converted by love [and] imagine together another world."
That work extends beyond those in ministry. One of the most striking parts of our trip was witnessing people who have stepped into deep union with immigrant groups — recognizing that abuse of migrants is a national crisis. At the vigil for Claudia Patricia Gómez González, I spoke to Chrissy Trumeter, who was then in her sixth day of a hunger strike LUPE organized to protest family separation.
"I'm the mother of a 4-year-old and a 5-month-old. Watching the news and seeing the missing children, I was having a hard time eating, a hard time sleeping and, frankly, a hard time looking at my own kids knowing what others were suffering," she said. "I had never done a hunger strike before, but it felt like a way I could be in solidarity."
More than just attending a rally, it is this kind of deep commitment to bonding oneself to immigrant communities that leads to greater empathy and activism. Studies have shown that one of the most effective ways to counter anti-immigrant sentiment is through direct exposure and contact with immigrant communities.
"Wherever people are suffering, wherever they're being oppressed because of the color of their skin or their immigration status, we need to be there in solidarity," Butler said. "We're moving towards an authoritarian governance that is white supremacist and targets black and brown bodies. We need to acknowledge that as Christians and really put ourselves on the front line to hold back the tide."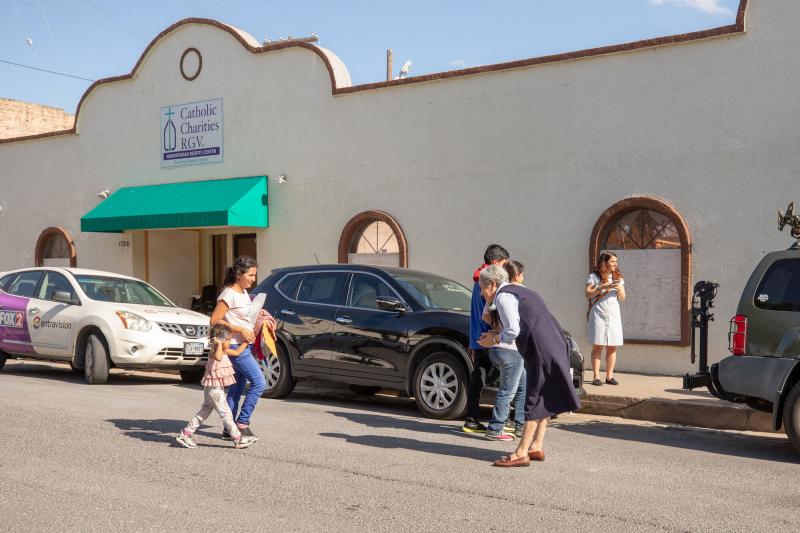 Sister Pimentel's work, however, reminds us that this resistance must be rooted in love for those we fight beside. When refugees arrive each day, she and all the center's volunteers go outside to clap, smile, and scream "Bienvenidos!" It's moments like this that highlight the gulf that separates our nation's immigration policy from our most cherished values.
When I asked Edwin at Catholic Charities RGV what he hoped for, now that he was in the United States, he simply replied, "I wish that we were welcome here."
*Editors have honored Abraham's request to not use his last name.
Got something to say about what you're reading? We value your feedback!