When a mob of supporters of President Donald Trump stormed the Capitol building on Wednesday afternoon, many carried weapons, wore red MAGA hats, and draped themselves in the candidate's flag. After legislators and their staff had been evacuated, Trump supporters entered the Senate chamber. With them came a Christian flag.
Prominent Christian leaders across denominations were quick to denounce the insurrectionists.
"To those who see this as a Christian endeavor, or something to be blessed in the name of Jesus, there is nothing Christian about what we are witnessing today," said Washington, D.C., Episcopal Bishop Mariann Budde in a video address shared on the Washington National Cathedral's Facebook page. "Nothing."
And yet Christianity is deeply interwoven with many of the ideologies that brought Trump supporters out to the National Mall and into the halls of Congress.
According to Andrew L. Whitehead, co-director of the Association of Religion Data Archives and professor of sociology at Indiana University-Purdue University Indianapolis, understanding Christian nationalism is essential to understanding what motivated many of the demonstrators and rioters in Washington.
"I think that [the demonstrators and rioters] believe that God has a specific plan for this country, and that their vision for the country has been given to them by God," Whitehead said. "Christian nationalism at its core is this desire to see Christianity be privileged in the public sphere."
The Christianity of Christian nationalism is very narrow and specific, according to Whitehead. It is typically white supremacist, nativist, and authoritarian. Whitehead and his colleagues previously found that adherence to a Christian nationalist ideology was one of the strongest predictors of a Trump vote.
"In many ways, Christian nationalism is a threat to a pluralistic democracy where we have norms like the peaceful transfer of power," Whitehead said.
Christian nationalism might explain why, while white nationalist symbols such as the Confederate flag and the Gadsden flag were flown at the Capitol on Wednesday, so too were crosses, protest signs quoting scripture, and banners with messages like "Jesus is my savior. Trump is my president."
"The conflation of Trump and Jesus was a common theme at the rally," Jeffrey Goldberg wrote in a dispatch for The Atlantic. "'Give it up if you believe in Jesus!' a man yelled near me. People cheered. 'Give it up if you believe in Donald Trump!' Louder cheer," Goldberg reported.
But these cultural forces predate Trump. The Christian nationalism on display during Wednesday's protests and attacks is the fruit of decades-long values and commitments within conservative evangelicalism, according to historian Kristin Kobes Du Mez, author of Jesus and John Wayne: How White Evangelicals Corrupted a Faith and Fractured a Nation.
The notion of restoring American greatness, such as Trump's "Make America Great Again" mantra, was prevalent in evangelical circles long before Trump arrived on the scene, Du Mez told Sojourners.
"The idea that America was founded as Christian nation has long been promoted in evangelical circles," Du Mez said. "And so, when Trump came along and that was his slogan, whether he knew it or not, he was actually building on rhetoric that was common within evangelical circles. Trump's words, behavior, and message appeal to conservative Christians immediately."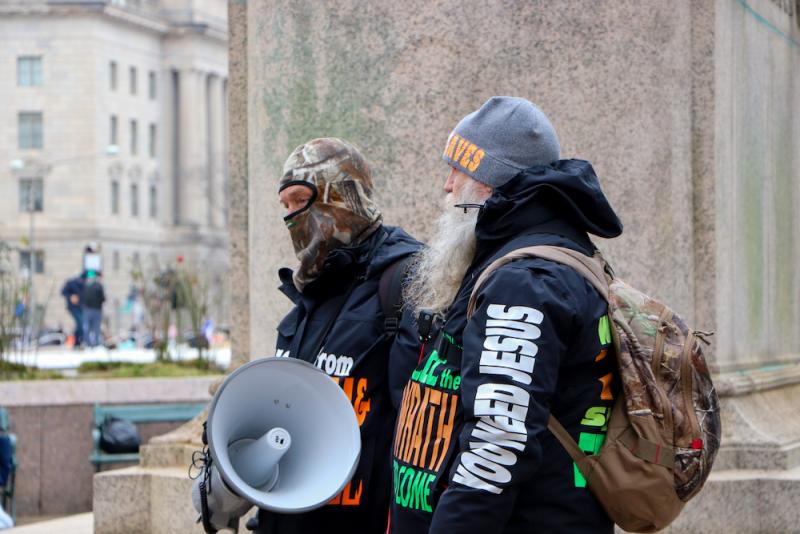 Christian nationalism has also been deeply intertwined with white supremacy throughout American history, according to Kelly J. Baker, an American religious historian and author of Gospel According to the Klan: The KKK's Appeal to Protestant America, 1915-1930. Like members of the KKK once did, many Trump supporters seek to return to a nation in which white Christians maintained power and privilege.
"White Christians understood the nation to be an important part of what they were doing, and the nation was defined by white Christianity," Baker told Sojourners. "These things worked together. You couldn't have a nation without white Christians, and Americanism was equally important to Christianity."
"Many people want to say these movements that are nationalist or white supremacist are not Christian movements," Baker added."But they very much are."
Brandi Miller, host of the podcast Reclaiming My Theology, said she was unsurprised by images of "Jesus Saves" signs at the rally and in the Capitol building.
"The image of Jesus in a lot of white evangelical conservative Christianity has been conformed to the image of Donald Trump himself: full of violence, power, hoarding, name calling, violently taking what you want and engaging with power and privilege," she said.
On a day that marked the historic election of the first Black senator and the first Jewish senator of Georgia, it's no coincidence that white supremacists' fear of "losing their country" is raging, said John Fea, historian and author of Believe Me: The Evangelical Road to Donald Trump.
Fea believes the mob in Washington was motivated by fear of social and demographic change, the pursuit of power, and nostalgia.
"Nostalgia is definitely at work here; it's tied into fear that the nostalgic view of America as being largely white and largely Christian is now disappearing," Fea told Sojourners. "In a pluralistic society like American democracy, you can't build a political philosophy around nostalgia. 'Make America Great Again' connotes a desire to return to a golden age in America that either is never coming back or probably never existed in the first place."
Got something to say about what you're reading? We value your feedback!