Nadine Seiler began protesting then-President Donald Trump in 2017 with one simple sign: a pink piece of paper with the word "RESIST" written across it in black ink.
Until late January, that same sign hung among hundreds of others on what community members call "the Black Lives Matter Memorial Fence" in Washington, D.C., near the White House.
But over the weekend, Seiler and volunteers carefully removed the artwork, separated it into 78 panels, and photographed each panel in an archive app called Save; they plan to make the images available to the public.
The Library of Congress and Howard University also selected various pieces of the artwork to add to their historic collections. Other pieces of artwork will be donated to local museums and schools.
For nearly seven months, activists have been adorning the non-scalable fence around Lafayette Square with artwork paying tribute to Black lives lost to police brutality. Aliza Leventhal, an archivist with the National Library of Congress, suggested the idea and process of archiving the memorial to Seiler. But the decision to remove the memorial was entrusted entirely to Seiler, who has been living at the fence since it was desecrated by Trump supporters in October.
"If I don't watch it 24/7 it will be destroyed," Seiler said. "Now that Trump is out of office, I'm not protesting him anymore. I felt it was time to take down everything that has managed to survive."
The fence was originally erected in June, after Black Lives Matter protesters attempted to topple the Andrew Jackson statue in Lafayette Square. It was supposed to be a temporary security precaution, but will remain for the foreseeable future as domestic terrorism threats in Washington remain after the Capitol riot on Jan. 6.
Seiler, 55, who lives in Waldorf, Md., but is originally from Trinidad and Tobago, began to visit the fence a few times a week back in August. Her job as a professional home organizer had dried up due to the pandemic, giving her time to dedicate herself more fully to her resistance of Trump's re-election.
On Oct. 26., three conservative Christian activists who had come to Washington for Sean Feucht's "Let Us Worship" concert and to celebrate Amy Coney Barrett's confirmation to the Supreme Court, destroyed several pieces of the artwork; later that evening, they removed many more. According to Seiler, the activists said they were acting in the name of Jesus.
Seiler took a video, posting it to her Instagram account and within a day there was a mass mobilization to rebuild the memorial and better protect it going forward.
Soon after, Seiler became the unofficial "Guardian of the Fence," a title given to her by community members. She has stayed there during the many tumultuous events in recent months, including the insurrection at the Capitol on Jan. 6 and the inauguration.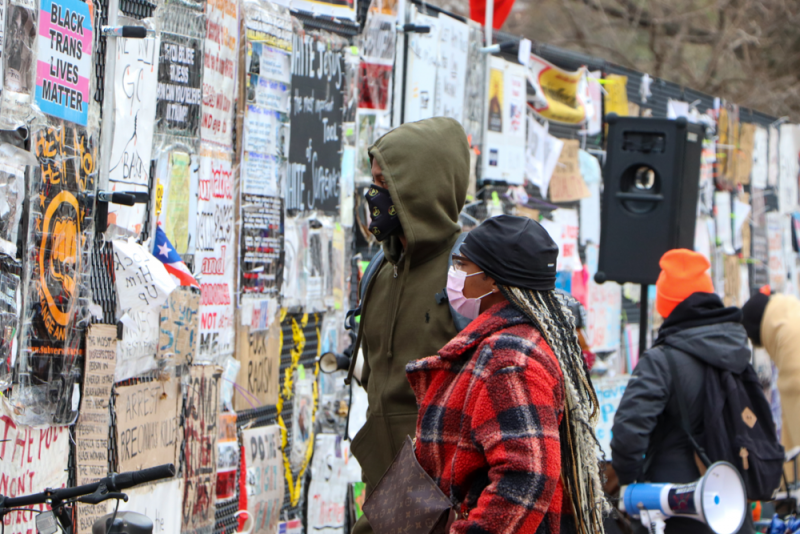 Seiler was also joined by Karen Irwin, 45, who had traveled from New York in September to join the William Thomas Anti-Nuclear Peace Vigil. The peace vigil, started by Thomas in 1981 and run by volunteers since Thomas' death in 2009, is considered the longest recorded vigil in U.S. history.
Those tending to the vigil had been pushed out of Lafayette Square when it was closed to the public and the fence was erected. Irwin and Seiler watched the fence in shifts, ensuring it was constantly monitored.
"The day I met Karen, I was wearing a mask that said 'my favorite snack is chewing up a Karen,'" Seiler recalled with a laugh. But Seiler said that Irwin is "a nice Karen," referencing the name given to white women who call the police on Black people.
Irwin played music at the fence and community members donated water, food, and winter weather gear. It became a safe space for people experiencing homelessness to gather, with several sticking around to assist in guarding the fence.
Seiler said there were usually three to 10 people sleeping at the fence on any given day. People would drive by with bottles of soda, coffee, and the occasional offer of a hotel room.
Last week, Seiler said an anonymous donor even booked her and Irwin a two-night stay at the Hay-Adams Hotel, across the street from the fence, in anticipation of inclement weather.
But with Biden taking office, and no date planned for the fence's removal, Seiler decided it was time for her to take a step back and for the art to come down.
"The work is not done," Seiler said. "What we have to look forward to is that Biden signed an executive order to form a commission on police reform. So we are hopeful this can change the culture of police and somehow stop Black people from getting murdered."
Seiler chose a simple cardboard circle with the words "All Black Lives Matter" in the center to take home as a keepsake.
"I chose this one because I feel that it speaks to the whole Black community," Seiler said.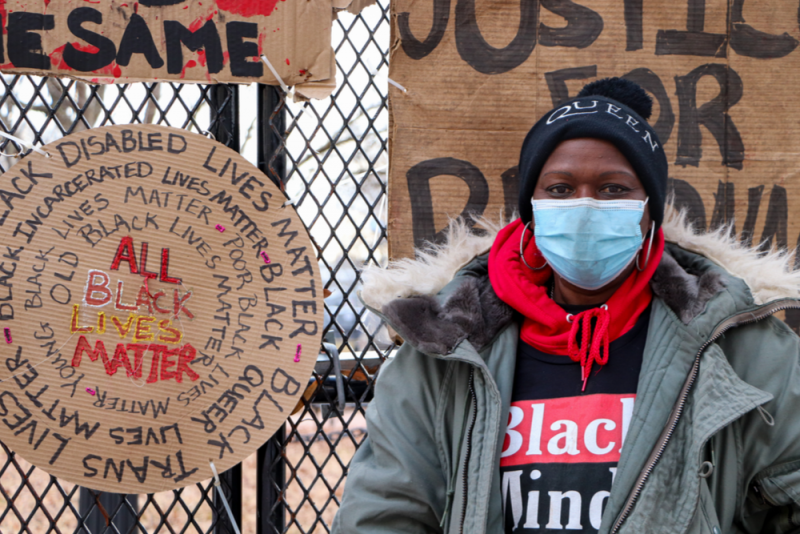 Got something to say about what you're reading? We value your feedback!