Lagos, Nigeria — On a drizzling Sunday morning, Nelo Monago, a 23-year-old entrepreneur missed church service to join a pack of young Nigerians angered by a series of rape allegations levied against Biodun Fatoyinbo, a popular Nigeria pastor.
Two days earlier, celebrity photographer Busola Dakolo said in an interview that pastor Fatoyinbo raped her as a teenager. Fatoyinbo denied the allegation saying: "I have never in my life raped anybody even as an unbeliever and I am innocent of this."
The response to the news was quick and wild. Hundreds of tweets were shared but a tweet calling for a protest against the alleged serial rapist got Monago's attention.
"I knew I was going to join the protest the moment I saw [the tweet]," said Monago. "Something has to be done even if it's as little as coming out to protest."
Draped in a white round neck shirt, black jean trouser, and a pair of sneakers, Monago matched words with actions and joined other young Nigerians to protest against the accused pastor's church auditorium, Common Wealth of Zion Assembly (COZA), located in the heart of Nigeria's commercial city of Lagos.
Amid drizzle, the protest started featuring young Nigerians, mostly Christians dressed in a uniform white shirt like Monago's. They spilled across both sides of a major road reducing traffic almost to a snarl. To avoid protesters from gaining entrance into the church, COZA beckoned on the Nigerian police who gated the church entrance, a common strategy mostly deployed by authorities to intimidate protesters in Nigeria. But the protesters, undeterred, defied police on standby, chanting and hoisting placards, some of which read: "Pastor Step down"; "Say no to rape in the church." Monago's reads: "By attending COZA you are enabling rape."
Incessant sexual scandal
Originated from the global #MeToo movement against sexual harassment, Nigeria's #ChurchToo moment was inspired by incessant sexual assaults perpetrated by the clergy. While the country still contends with a slow and corrupt justice system that encourage sexual predators — church leaders, have been mired in series of rape accusations.
While a few have been persecuted or jailed, many, especially the rich and powerful, have been left off the hook — courtesy of a justice system that also favors and shields powerful authorities. The delayed persecution of Rev. King, a popular Nigeria pastor sentenced to death by hanging for sexually abusing and killing church members comes to mind. Twelve years on, the pastor is still in jail and has reportedly received clemency.
In Nigeria, one in four girls experience sexual violence by age 18 and they hardly receive any form of support, UNICEF says. The perpetrators, according to UNICEF's Nigeria Violence Against Children Survey, are typically someone the child is familiar with and the violence often takes place where the child should be safe such as their homes or at school. The vast majority of children never speak out, silenced by fear, shame, stigma and a lack of knowledge of where to seek help, the survey adds.
Dakolo's story mirrors the reality in this survey; a teenager whose trust was betrayed by Pastor Fatoyinbo a spiritual father to the celebrity photographer 20 years ago. Dakolo claims the pastor visited her family home when her mother traveled and raped her in the living room. Known for his flamboyant lifestyle, Pastor Fatoyinbo nicknamed " Gucci Pastor" runs COZA, one of the biggest and fastest-growing churches in Nigeria.
Ironically, the pastor has been mired in sexual controversies for the past 10 years. In 2013, a female church member, Ese Walter claims she had a week-long sexual affair with the pastor claiming she felt "abused and manipulated" by Fatoyinbo. He didn't respond to the allegation. And his deafening silence to Walter's confession seven years ago galvanized youth into the streets in protest.
'Do not touch my anointed'
For years, Nigeria practiced Christianity enshrined in conservatism with a deep reverence for religious leaders. Some Nigerian pastors, according to Forbes , wield power and wealth with businesses and church branches worldwide. A good number also wield political power, playing an advisory role to presidents and political leaders across the continent. But public scrutiny and criticism, especially from the younger generation, has increased and often been seen as a form of apathy against religious leaders in Nigeria.
To shield religious leaders from criticism, the biblical passage, Psalm 105:15: "Do not touch My anointed ones; do no harms to my prophets" has been overused, and has become a cliché in Nigeria. The younger generation, however, has grown weary of this biblical passage. They've deployed a new means: online activism and protest.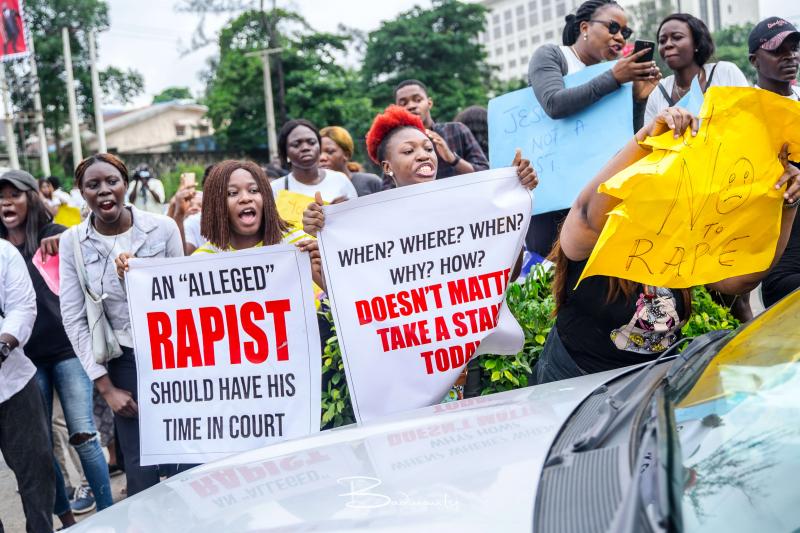 Jekein Lato-Unah, who sent the tweet that led to the #ChurchToo protest, believes the church hasn't been fair to women.
"The protest was aimed at the church supporting and protecting abusers, slut-shaming and victim-blaming of women and members of their congregation," she said. "Everything that was said and done to women that spoke up about sexual violence, emotional and psychological manipulation, decades ago till present day, is not only inhumane but also un-Christ-like and it is our duty as women & members of the community to speak against it."
Nigeria is a conservative society where questions that challenge religious authorities are seen as a form of rebellion by the older generation, hence, the #ChurchToo protest is also a microcosm of what the younger generation in Nigeria represents: a shift from religious conservatism to activism — where religious doctrines and the clergy inadequacies are questioned.
"I think our parents started the 'touch not my anointing' and 'do my prophets no harm' line and it doesn't make sense. Most youths don't go to church because they feel they'd be going to a place where terrible things are going on and no one is holding them accountable," Monago says.
The lack of accountability in conjunction with a system that seems to protect the failure of religious leaders inspired the youth who poured onto the streets in protest; it paid off as Fatoyinbo stepped down following widespread protests calling for his resignation.
"I've noticed that Christians gives excuse saying 'oh he's a pastor, touch not my anointed' but that is wrong. You should ask questions if you want someone to influence your life, the least you can do is ask questions, hold them accountable." Lato-Unah said.
Fatoyinbo, however, returned to the pulpit one month after protesters called for his resignation as the pastor. He said he was "taking a leave of absence from the pulpit" to "submit to the concerns of his spiritual mentors" but reneged on his promise a month after.
"The justice system is sexist, misogynistic, power and money-hungry so all these factors are working against women who seek justice," says Lato-Unah said. "In a functioning country, he would be in jail right now but alas."
For Monago, it's discouraging to see Fatoyinbo back to the pulpit with no legal proceedings against him. Nonetheless, there's much to hope for in the younger generation whose knack to demand more from religious leaders has increased.
"I'm so proud of us," she said. "I'm so proud to be with people who question everything and demand more from religious leaders. Nobody knew the rape survivor but hundreds of people came to protest on her behalf — that gave me joy and pride."
Got something to say about what you're reading? We value your feedback!