Victoria Carias says her husband was making plans to go to brunch with her and their children before heading into what he expected to be a routine check-in with Immigration and Customs Enforcement. But on that morning, July 24, he was detained by ICE. Now, Carias says, their children are asking when their dad will be home.
"I keep on telling them to have patience and that he will only be there for some time but that we need to have faith and keep praying to God so that he can come back to us soon," she told Sojourners.
Victoria's husband, Pastor Noe Carias Mayorga of an Assemblies of God congregation in Los Angeles, had a deportation order from entering the U.S. as teenager more than 20 years ago. Victoria and their two children, ages 5 and 7, are U.S. citizens. ICE has denied his request for a stay of removal.
"Pastor Noe Carias is and has been a faithful and very active member, local church leader, and pastor of the Southern Pacific District of the Assemblies of God for the past 23 years," said Dr. Sergio Navarrette, Assemblies of God Church district superintendent, in a statement. " … I've known Pastor Carias for many years and I can testify of his faithful service to God and to our Hispanic people for many years."
According to a Department of Homeland Security report, during the first 100 days of the Trump administration, ICE arrested more than 41,000 people "either known or suspected of being in the country illegally" — a 38 percent increase over the same period last year. Non-criminal arrests have also increased from close to 4,200 in 2016 to more than 10,800 in 2017, over the same period. As DHS Secretary John F. Kelly has made clear, "ICE will no longer exempt any class of individuals from removal proceedings if they are found to be in the country illegally."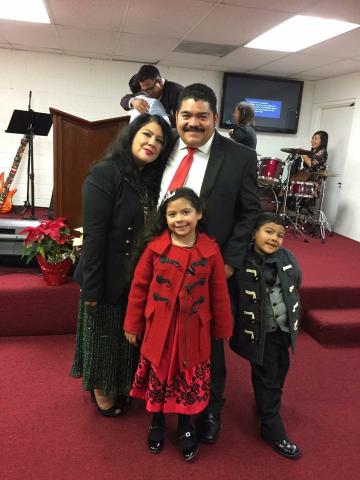 ICE Acting Director Thomas Homan claims that officials are focused "on threats to public safety and national security," and that "ICE continues to execute our mission professionally and in accordance with the law, and our communities will be much safer for it."

But how does detention of an evangelical pastor keep the country safer?

"President Trump has been saying that we are only going after criminals, but now they are destroying families, good citizens, and even pastors," Navarrette said.
The Southern California Matthew 25 Movement, part of the national Matthew 25 Movement, has seen deportations ramp up in the region, and their relationships with ICE officials have suffered as well.
"It used to be possible to have a working relationship with ICE. They were interested in the quality of an immigrant's contribution to this society; the non-profit or faith-based communities often knew more about a particular immigrant family than ICE did, and our input was valued in the vetting process," Rev. Alexia Salvatierra, a Lutheran pastor and Matthew 25 leader, said.
"Now, ICE leadership is much less available — and when they are, their words do not match their actions. For example, we were told that if an immigrant had filed motions to remove their deportation order and had a qualifying case, they would not be detained or deported. Well, that is Pastor Noe's situation … he was detained, even though they led us to believe that he would not be."
Under the Trump administration, ICE has requested an additional $185.9 million to recruit more than 1,600 new ICE Enforcement and Removal Operations officers, Homeland Security Investigations agents, and additional support personnel. This is part of a larger 1.6 billion ICE request that would also include funding for the new border wall and detention beds.
Advocates have been pushing back against these requests, and Matthew 25 SoCal has been providing pastoral and practical support, legal and social services, individual/family advocacy, and shelter/sanctuary.
Dr. Gabriel Salguero, an Assemblies of God pastor and president of the National Latino Evangelical Coalition, said in a statement that NaLEC has been supporting the efforts of the denominational superintendents "because our understanding of the national immigration priorities by the Department of Homeland Security and the White House do not seem to accord with the detention and deportation of Pastor Carias."
The statement continued:
"We were told that enforcement would focus on threats to the community. Pastor Carias is a leader, family man, and pastor. As evangelical leaders, the deportation of Pastor Carias does not seem to be congruent with these priorities."
So how can people of faith nationwide help cases like Pastor Carias'?
"First, we need you to gather to pray, ideally outside a detention center," Salvatierra said.
The Southern California Matthew 25 Movement is also asking people to contact the director and vice-director of ICE and explicitly call for Pastor Carias' release, using the following number and script:
David Marin, 213-830-5931
Field Office Director at DHS/ICE ERO, Los Angeles District Office
Jorge Field, 213-830-7911
Assistant Field Office Director, Enforcement and Removal Operations, Los Angeles Field Office, Media, Congressional and Outreach
Script: I am (Title/Name) from (Church/Ministry/Organization) and I am calling to ask for the release from detention of Pastor Noe Carias Mayorga, who has qualifying cases through his marriage to a U.S. citizen and his ministry as an Assemblies of God Pastor, has no criminal history, and who has motions pending for removal of more than 20-year-old deportation orders resulting from entering without permission as a teenager.
Or you may also email the director and vice-director of ICE at David.a.marin@ice.dhs.gov and Jorge.R.Field@ice.dhs.gov.
In Matthew 25, Jesus said, "I was a stranger and you welcomed me, I was naked and you gave me clothing, I was sick and you took care of me, I was in prison and you visited me.' Truly I tell you, just as you did it to one of the least of these who are members of my family, you did it to me."
May we act on our faith as Christians and call upon our leaders to interfere for the family of Pastor Carias and the thousands of undocumented families leaving in fear of deportation.
Send Us a Note
Got something to say about what you're reading? We value your feedback!