Adam Joyce is the assistant director of the Axelson Center for Nonprofit Management. He is a member of Democratic Socialists of America and director of communications for a Chicago aldermanic campaign.
Posts By This Author
We Can't Surrender Our Sacred Worth at Work
05-17-2019
A Q&A with Labor Organizer Rev. C.J. Hawking
Rev. C.J. Hawking, Executive Director of Arise Chicago, has worked at the intersection of faith and organized labor for over 30 years. Arise Chicago helps organize religious communities in support of union campaigns and advocates for workers' rights and dignity in the workplace. For Rev. Hawking, the co-author of Staley: The Fight for the New American Labor Movement, this activism is an essential part of her faith and the church's call to be faithful to the gospel. I recently had the opportunity to talk with Rev. Hawking about Arise Chicago's work, and how churches can support the labor movement in their fight for workplace democracy and a more equitable economic order.
Civility Policing Obscures Our Political Reality
01-11-2019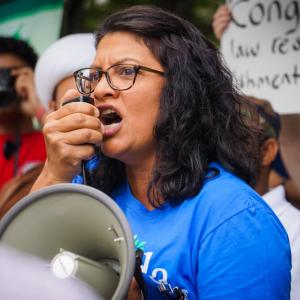 Today, civility policing is just one more layer of rhetorical fog which obscures the truth of our political reality ─ how poverty and cruelty are manufactured and sustained by the policy regime of America's ruling class. In reality, the Trump tax cut is uncivil, the American support of Saudi Arabia's war in Yemen is uncivil, the prison-industrial complex is uncivil, ripping families apart at the border is uncivil.