When Jeronimo Perez Flores was accepted into San Jose State University, he never imagined that enrolling in college would lead him to homelessness.
The 22-year-old had immigrated to the U.S. from Mexico in 2014, learned English as a teenager, received a full-tuition scholarship to attend San Jose State, and became the first in his family to attend college. But since the university is about 60 miles from his family's home in Richmond, California — a commute that goes through some of the heaviest traffic in the Bay Area — he had to look for housing near campus.
Living in the university's dorms would have meant taking out student loans, Perez Flores said, something he was reluctant to do. Off-campus housing in the capital of Silicon Valley, where the average cost of a one-bedroom apartment is more than $2,500 per month, according to the apartment search platform Zumper, was prohibitively expensive.
So, Perez Flores started sleeping in his car at night.
"I couldn't fit in my car, it was noisy and there were lights," he said. "I wasn't sleeping well, so I couldn't concentrate in my classes because I didn't have good rest."
One of his regular spots to sleep at night was the parking lot of Grace Baptist Church, less than a block away from campus, which is how he stumbled upon a new campus ministry program specifically designed for homeless students. Two years ago, Rev. Kathleen Crowe, the Episcopal chaplain at San Jose State, started renting space on the second floor of Grace Baptist Church and converted three previously unused rooms into dorms where ten homeless students now live for free during the school year.
While campus ministries have long included service components, Crowe's work changes the paradigm. Instead of taking students to a soup kitchen or on an alternative spring break trip abroad, the recipients of her service are students right on her own campus.
"We can't let students in the richest place in the country — if not the world — sleep in their cars," said Crowe, also a deacon in the Episcopal Church. "It's outrageous. We can't wring our hands and say, 'Isn't it awful?' We have to do something about it."
Perez Flores connected with Crowe and started living at the church last year. This year, the junior majoring in political science is also serving as the dorm's resident assistant.
"I felt very happy that I was not the only one and that there was help," said Perez Flores, who wants to attend law school after graduation and eventually become an immigration attorney. "I thought it was something that happened to me because of the situation I was in, then I realized no, that it's not something that I was doing wrong."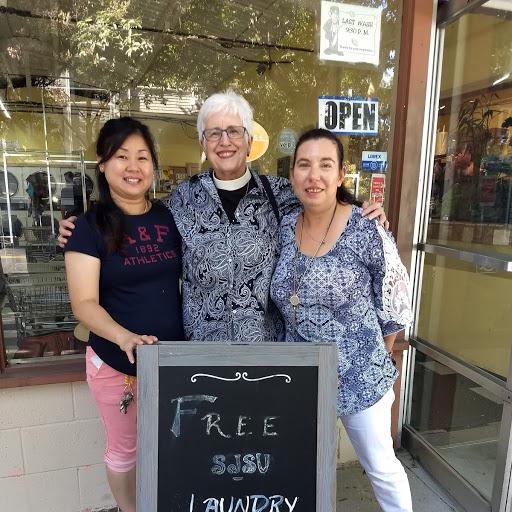 According to a 2018 report released by California State University, nearly 11 percent of students across the 23-campus system experienced homelessness sometime in the past year. At San Jose State, more than 13 percent are estimated to be homeless, or about 4,000 of students. Five percent of University of California students and nearly 20 percent of community college students across the state also report being homeless.
When Crowe started working at Canterbury Bridge Episcopal Ministries at San Jose State seven years ago, she said she was unaware of how California's housing crisis was impacting students. But once she learned the statistics, she realized she had to dramatically change the way she was doing her ministry, especially on a campus where she estimates only one-third of students identify as being part of a religious group.
"To sit at a table with my collar on saying, 'Here I am!' isn't going to work," she said. "In my prayer, it became clear to me that the only story recorded in all four Gospels was Jesus feeding the 5,000. The people came to him and said they were hungry. I thought, 'Yes, how in the world would a student be able to study or think or even think about self-actualizing if they had nowhere to live?' And I realized that's the calling."
Crowe, who previously worked at IBM for more than three decades, helped set up 18 portable food pantries across campus, and last school year, she helped launch the school's first permanent pantry, where students can get food and toiletries. She also started a ministry called "Sacred Suds," where she spends Sunday evenings at a laundromat close to campus with $50 in quarters and offers to pay for students' laundry.
She also called nearby churches to see if any would be willing to take in students.
Grace Baptist Church, a 105-year-old church with a long history of social justice work, including sheltering some of San Jose's growing homeless population during the winter, obliged. Crowe cleaned out two large rooms and installed beds, small room dividers, desks, garment racks, couches, a television, refrigerator, and other kitchen appliances to create two shared bedrooms — one for men, one for women — a common area, and a bathroom.
"The students needed a place to sleep that was safe, and a place where they would be in peace and could focus on their studies," said Rev. Liliana DaValle, pastor of Grace Baptist Church. "We think that without what [Crowe] does and without the space we opened, some of these students could not graduate, they could not finish their studies."
DaValle said that hosting the dorm has also benefited her 50-person congregation.
"It has opened the eyes of everybody to the fact that anybody can become homeless," she said. "The homeless are not just these people who are either mentally ill or addicted to drugs, or they're homeless because they want to. We never taught that, but as new people join the church, they become aware that this is something that can happen to anybody."
There is no religious requirement to stay at Grace Baptist Church; Crowe said her previous students have come from all backgrounds, including Hindu, Muslim, Catholic, and non-religious ones. She said most of those she helps are first-generation college students on scholarship whose families live too far away for them to commute every day to campus.
"They choose between going to school and having a place to sleep," she said. "Or, 'I'll sleep in my car, I'll live rough, I'll do what I have to do to have a better life.'"
Crowe said the dorm costs about $13,000 per year to run, or about $100 per student per month, which includes paying a small amount in rent to Grace Baptist Church, keeping a pantry stocked with food for the students there, and any other supplies or appliances the students might need. She said most of this money comes through her own fundraising.
In addition to the dorm, Crowe also provides shelter by pairing homeless students with host families in the community. Areli Sandoval, a 28-year-old junior at San Jose State studying Chicana and Chicano Studies, is one of two students now with a host family.
Sandoval, who immigrated to the U.S. from Mexico when she was 16, is a recipient of the Deferred Action for Childhood Arrivals program, but when her work permit expired and she couldn't afford to get it renewed, she was suddenly unable to get a job to pay for housing. Without family support, she was left homeless and living on the streets, she said.
"It was very difficult," she said. "There are no words to describe what I was going through and the process it's taken me to overcome what I've been through."
A school counselor referred Sandoval to Crowe, who gave her money for food and school supplies, and eventually matched her with a family in San Jose who offered to let her live in their house for free until she graduated. Sandoval has been living there for two years.
"She gave me a voice," she said of Crowe. "I wouldn't be here without her help."
Even though there's no requirement for students to participate in any religious activities at Grace Baptist Church or Canterbury Bridge Episcopal Ministries, Crowe said her work has naturally opened the door to pastoral care, prayer, and fellowship. Several of her students now come to her for spiritual counseling, and together, the students who are part of the ministry program have formed a sort of community with each other, she said.
"The hardest missionary field is the college campus," she said. "You don't have to go abroad — you just have to go across the street. We miss that somehow."
Got something to say about what you're reading? We value your feedback!