Thousands of protesters clad in white and armed with signs denouncing President Donald Trump rallied Saturday in more than 90-degree heat against the Trump administration's immigration policy and the "zero-tolerance" approach that has separated children from their parents after they crossed the border from Mexico to the U.S.
Actor America Ferrera and singer Alicia Keys read letters from those suffering directly from family separations, and Hamilton creator Lin-Manuel Miranda sang a lullaby from the production as they stood before the thousands of protesters in Lafayette Square across from the White House.
"We're here because there are parents right now who can't sing lullabies to their kids," Miranda said. "We will not stand for a country separating children from their families."
Susana Sandoval, 46, who works with the National Domestic Workers Alliance, one of the several founding organizations of the Keeping Families Together protest, called the rally "a moment in time where we're redefining what America is and who America is."
"We have an opportunity to look at the systems that are in place and make appropriate changes in law and policy," she said.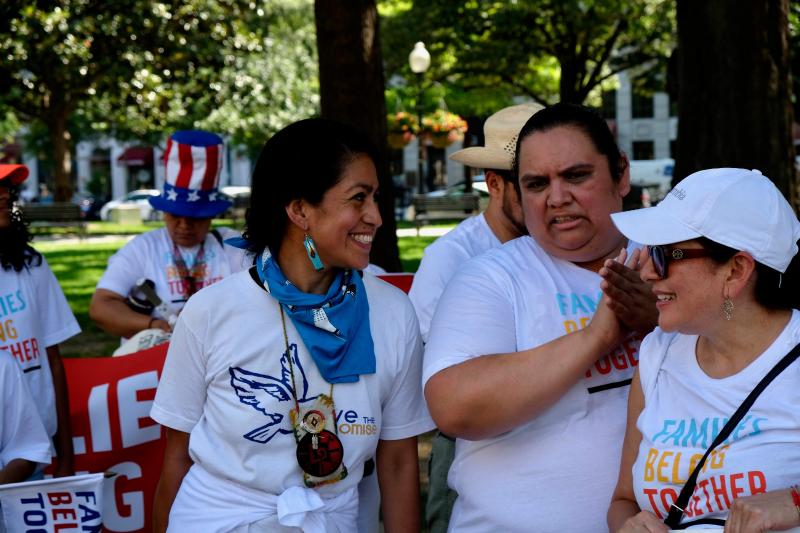 Sandoval came to D.C. from Chicago to help direct Saturday's march and the sister protest on Thursday, run by the organizers of the Women's March. In 2014, Sandoval fasted for 18 days outside the White House to urge President Barack Obama to take action on immigration reform, helping to spur the executive order offering temporary legal status to millions of undocumented immigrants.
"Children and toddlers cannot advocate for themselves and their rights," Sandoval said. "So if they're coming and asking for asylum we need to stop putting them in cages; we need to give them due process of law."
Isabela Carvalho, 32, originally from Brazil and now living in D.C., said Americans need "to understand immigration rights as human rights. Innocent people should not be detained, period. That's the fundamental point."
Many of the participants were moved to participate by a personal connection to the idea of family separation.
Carvalho's partner, Carissa Look, lost her mother when she was eight years old. Look, now 33, said the death of her mother familiarized her with the trauma of children taken from their parents.
"After having gone through my whole life and hearing people say, 'Oh I'm so sorry that was the worst thing that could have happened to you'... and now we're doing that on purpose. I can't sleep. Every single one of them breaks my heart," she said.
Look says her concerns have not been assuaged by Trump's executive order, signed last week, which said that parents and children would be kept together in detention.
"I'm glad that things stopped but I also think we can't forget about all the children who are still not with their parents," she said. "It's hard to feel better."
Supporters of immigrant families said they draw hope from the of mass mobilization, the sight of tens of thousands marching in solidarity along Pennsylvania Avenue.
"It is invigorating," Sandoval said. "We may never be able to right the wrongs of the past, but we can create a future together that is more equitable for all humans."
Got something to say about what you're reading? We value your feedback!