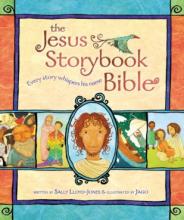 How do you get kids to read one of the world's oldest books? Ask Sally Lloyd-Jones, whose The Jesus Storybook Bible recently passed the critical mark of one million copies sold.
The British ex-pat and now proud New Yorker has never married or had children of her own, yet aims to retell the Bible to something that comes alive for young people.
One of her editors told her once that there are two types of children's books authors: the ones who are around children, and the ones who are children inside.
"It kind of freed me, because I think I know I'm that second one," she said. "And I can still write from that place, because my childhood is so vivid."