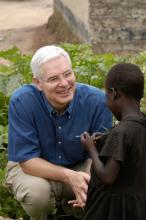 In an attempt to create unity, World Vision managed to create a hornet's nest around the issue of same-sex marriage. Its president Rich Stearns openly acknowledges the mistakes the relief organization made while flip-flopping on the issue.
Earlier this week, the World Vision announced that it would allow employees to be in same-sex marriages. Within 48 hours, the $1 billion Christian organization reversed course, saying on Wednesday that it had made a mistake. The backlash illustrated how evangelicals will continue to wrestle with a growing cultural acceptance of same-sex marriage.
In an interview with RNS on Thursday, Stearns suggested that the number of sponsors lost was under but around 5,000. Those who sponsor a child pay $35 each month, so the loss could have tallied up to $2.1 million a year.
Stearns also spoke with RNS on how the decision and its reversal has impacted the organization, the number of staff who have resigned and the regret he has had this week. Some answers have been edited for length and clarity.