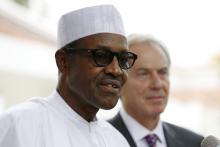 Nigeria's newly elected president, Muhammadu Buhari, promised during his campaign that he would tackle the militant terrorist group Boko Haram.
On May 29, he will be sworn into office, just as the extremist group is ramping up its use of female suicide bombers.
Buhari, who is Muslim, replaces Goodluck Jonathan, a Christian from the country's south. Both Christians and Muslims voted for Buhari in April, convinced he could stop the terrorist rampage.
Nigerians fear violence may escalate if female terrorists are deployed because they can hide explosives under their long Muslim abayas, or gowns.