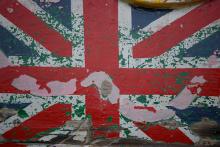 Gandhi once said that "a nation's greatness is measured by how it treats its most vulnerable." Today, it strikes me that the "Great" in Great Britain should probably be quietly dropped, and replaced with "Abject," "Inadequate" or something equally disparaging.
For that is how the UK is currently treating its most vulnerable — the young, the elderly, the disabled — inadequately, abjectly and without compassion. For the last few weeks, a battle has been raging between the government, the legislature, the Church, organizations, and the general public over a piece of legislation called the Welfare Reform Bill.
The bill is wide ranging in its 'reforms', covering a myriad of social security measures – from disability benefits, to welfare offered to the unemployed and their families and children. At a time when austerity and budget cutting is front and center of the government's agenda, 'reform' is a by-word for 'cutbacks'.
The crux of the legislation is an attempt to distinguish between different categories of "the poor," to weed out the "undeserving" from the "deserving." Sadly, as can be seen from the uproar that the Bill has caused, this attempt has failed.