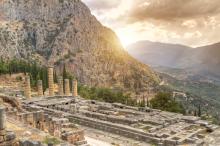 Thank the gods we don't believe in the utterances of oracles anymore. We don't search for omens in the entrails of sacrificed animals or believe that women in drug-induced trances can foretell our destiny. Because the ancient Greeks fell for this superstitious mumbo jumbo, they were led into two disastrous wars that had devastating consequences. The great anti-war playwright Euripides offers his critique of wars and oracles in his play, Iphigenia at Aulis, now playing at the Court Theater in Chicago. My talented friend Jeanne T. Arrigo is in the chorus of this production and I have her and the Court Theater to thank for bringing this ancient gem to my attention.
Two Oracles, Two Devastating Wars
Iphigenia at Aulis was first performed a year after Euripides' death in 406 B.C.E. He wrote it in response to Athens' nearly 30-year war against Sparta. Known as the Peloponnesian War, it ended in 404 B.C.E. with Athens' surrender, her fleet destroyed, and the city starving after a four-month siege. Euripides felt that part of the reason Athens went to war in the first place was that the Oracle at Delphi had predicted victory "if they did their best." Not only did this encourage the outbreak of the war, but it probably made a negotiated settlement impossible. Because why would anyone cease the pursuit of victory if victory has been assured? The Oracle's prophecy lent an aura of inevitability to the outcome of the war, which in effect robbed the Athenians of their agency. They marched to war like automatons in service of the gods.
To convince Athenians that they were on a path of self-destruction, Euripides dramatized a scene from the beginning of a previous bad military adventure, the Trojan War. As the Homeric story is retold by Euripides, the Greek armies are assembled in the port city of Aulis. Agamemnon is their general, ready to lead a thousand ships to attack Troy to recover Helen, who has run off with young Paris of Troy. The nation has mobilized to avenge this insult to Helen's husband, Menelaus (Agamemnon's brother) and all of Greece.
Unfortunately for Agamemnon, there is no wind. The soldiers soon tire of waiting and, despite their war lust, they are threatening to go home. But an Oracle has foretold that Artemis will raise the winds and bring certain victory on one condition: that Agamemnon sacrifice his daughter Iphigenia to her. Under pressure from the troops and his own lust for glory, Agamemnon sacrifices his daughter and the thousand ships are launched. The war is on, and the play ends with the fleet sailing eagerly across the sea.