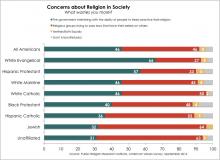 These are anxious times for white evangelicals, according to two new surveys.
At 20 percent of U.S. adults, they are statistically neck-and-neck with the "nones" — people who claim no religious brand. "Nones" now tally up to 19 percent in the 2014 American Values Survey, said Robert Jones, CEO of the Public Religion Research Institute, which released the survey Sept. 23.
Evangelicals, said Jones, are on "the losing side of the culture wars, such as gay marriage, and they see that their share (of society) is shrinking and aging, adding to their sense of being embattled."
"They can no longer say confidently they speak for all people of faith."
Perhaps for that reason, white evangelicals, more than any other religious group, worry that the government will interfere with their religious liberty.
The survey asked which concerned people more: The government interfering with their ability to "freely practice their religion" or "religious groups trying to pass laws that force their beliefs on others."
The overall answer was a tie — 46 percent of Americans overall for each viewpoint. But white evangelicals were significantly  more worried about government interference (66 percent) than any other group.