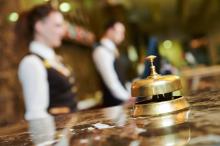 I've become a big fan of author Anne Lamott. How can you not love someone who says her thoughts about others are sometimes so awful "they would make Jesus "want to drink gin straight out of the cat dish?"
And when she screws something up — which would be often, of course — she has a "Bad Mind" that starts telling her she's such a loser. Always has been, always will be.
I know that voice. A couple of weeks ago, we talked about that voice at church. Our reading was the story about Jesus getting baptized in a muddy river and how he heard a distinct and unmistakable voice talking to him as he stood there dripping. The voice called him beloved. Reassured him that he was loved, deeply and passionately. In our discussion after the reflection, I mentioned Anne's "Bad Mind" and how it's often my mind too, screaming to be heard and believed. Our pastor — who also likes Anne — asked if anyone else hears that Bad Mind voice. Everyone raised their hand. Nodded, too.
Yep. We all seem to be on a first-name basis with that voice. At least I'm not the only one.