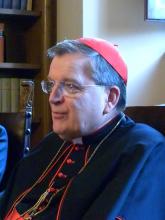 In demoting American Cardinal Raymond Burke from his powerful perch at the Vatican, Pope Francis has sidelined an outspoken conservative agitator – for now.
The pope moved the feisty former archbishop of St. Louis from his role as head of the Vatican's highest court to the largely ceremonial position of patron of the Knights of Malta on Nov. 8.
Francis has effectively exiled one of his loudest critics, but Burke's supporters – and his opponents – warn that his position at the Catholic charity may actually give him more freedom to exercise greater influence and even rally opposition to papal reforms.
In other words, the stunning demotion may remake Burke into St. Raymond the Martyr, the patron saint of Catholic conservatives.
"His position as patron of the Knights of Malta is Rome-based and mostly ceremonial," wrote Edward Pentin for the conservative National Catholic Register.
"He is nevertheless likely to continue and perhaps even step up his defense of the Church's teaching in the face of continued efforts to radically alter pastoral practice in the run-up to next year's second synod on the family."
Burke is well-known for his uncompromising stance on abortion, homosexuality and the sanctity of marriage, and his passion for doctrine is matched only by his passion for the elegant finery of his office.