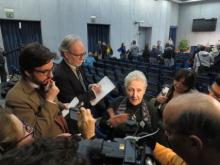 A papal commission on clergy sex abuse is close to giving Pope Francis recommendations on how to punish bishops who shield priests suspected of misconduct, one of several moves announced Feb. 7 that are encouraging the two victims on the panel.
But the two victims also said the Vatican has a year or two at most to implement policies with teeth, otherwise they will leave.
Peter Saunders of Great Britain, who was sexually assaulted as a boy by priests at his Catholic school, told a crowded news conference at the Vatican press office that he came to the meeting "with a fair degree of trepidation" that anything significant would result.
But after the initial two days with what he called a "group of quite remarkable and determined people," including Boston Cardinal Sean O'Malley, head of the commission, he said "the trepidation has kind of disappeared."
"I'm actually very, very hopeful that there are going to be some very significant things happening," especially on disciplining bishops, said Saunders, who heads the London-based National Association for People Abused in Childhood.
But he warned that "if in a year or two there isn't some firm action on those matters then I don't think I'll be sitting here talking to you."