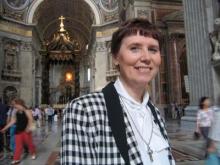 ROME — On its 15 previous pilgrimages, the Catholic gay rights group New Ways Ministry drew maybe two-dozen people to visit holy sites in places like Assisi and Rome.
This year, the number of pilgrims unexpectedly doubled to 50.
Chalk it up to the so-called Francis Effect, where the pope's open-arms acceptance is giving new hope to gay and lesbian Catholics who have felt alienated from their church for decades.
What's been even more surprising is that both New Ways and a similar Catholic LGBT organization in Britain are finding support from the Catholic hierarchy in their efforts to meet the pontiff when they both visit the Vatican on Ash Wednesday, the start of Lent, the period of penance and fasting preceding Easter.
For example, Archbishop Georg Ganswein, head of the papal household and the top aide to Pope Emeritus Benedict XVI, responded to New Ways' request for a papal meet-and-greet by reserving tickets for the group at Francis' weekly public audience in St. Peter's Square. It's not a private meeting — which is tough for anyone to get — but it's not nothing.