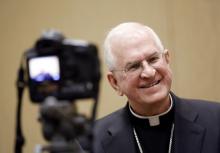 After serving as vice president of the U.S. Conference of Catholic Bishops for the past three years, there was little surprise when Archbishop Joseph Kurtz of Louisville, Ky., was elected this week to the top post in the American hierarchy.
Yet the nearly 250 churchmen would have been hard-pressed to find a better president to help them pivot toward the new, more pastoral path set out in recent months by Pope Francis.
Kurtz has earned his stripes with the hierarchy's conservative wing thanks to his past work heading their campaign against gay marriage, but he was also molded by his early years as a pastor and his work in social justice — experiences he mentioned early and often when facing reporters after his election on Tuesday.