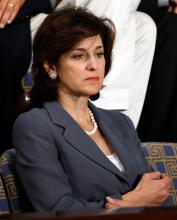 A small Catholic college in Massachusetts has been pressured by the local bishop into cancelling an invitation to Sen. Ted Kennedy's widow to deliver the school's commencement address because of her support of abortion rights and gay marriage.
Worcester Bishop Robert J. McManus also told officials at Anna Maria College last week that the school should not give Victoria Kennedy an honorary degree, diocesan spokesman Raymond L. Delisle said Monday (April 2).
McManus believes that Catholic institutions "should be honoring Catholics for their consistent public positions with the church, not for contrary positions with the church, especially on core issues such as the right to life and the sanctity of marriage," Delisle said.