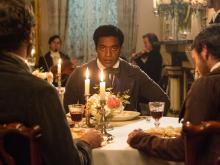 The most controversial sentence I ever wrote, considering the response to it, was not about abortion, marriage equality, the wars in Vietnam or Iraq, elections, or anything to do with national or church politics. It was a statement about the founding of the United States of America. Here's the sentence:
"The United States of America was established as a white society, founded upon the near genocide of another race and then the enslavement of yet another."
The comments were overwhelming, with many calling the statement outrageous and some calling it courageous. But it was neither. The sentence was simply a historical statement of the facts. It was the first sentence of a Sojourners magazine cover article, published 26 years ago titled "America's Original Sin: The Legacy of White Racism."
An extraordinary new film called 12 Years a Slave has just come out, and Sojourners hosted the premiere for the faith community on Oct. 9 in Washington, D.C. Rev. Otis Moss III was on the panel afterward that reflected on the film. Dr. Moss is not only a dynamic pastor and preacher in Chicago, but he is also a teacher of cinematography who put this compelling story about Solomon Northup — a freeman from New York, who was kidnapped and sold into slavery — into the historical context of all the American films ever done on slavery. 12 Years is the most accurate and best produced drama of slavery ever done, says Moss.
In her New York Times review, " The Blood and Tears, Not the Magnolias," Manohla Dargis says, 12 Years a Slave "isn't the first movie about slavery in the United States — but it may be the one that finally makes it impossible for American cinema to continue to sell the ugly lies it's been hawking for more than a century." Instead of the Hollywood portrayal of beautiful plantations, benevolent masters, and simple happy slaves, it shows the utterly brutal violence of a systematic attempt to dehumanize an entire race of people — for economic greed. It reveals how morally outrageous the slave system was, and it is very hard to watch.