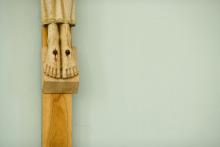 This past Sunday, Erick Erickson, editor-in-chief of the blog Red State wrote a post titled "The Perversion of the Words of Our Lord Jesus Christ by the Sinner Barack H. Obama."
First, I hope that Erickson remembers that in the Christian tradition calling someone a "sinner" is a theological statement of fact, not a pejorative. Labeling another Christian as a sinner in a bold and brash headline is, I am sure, very gratifying,  but it hardly sets one up for an argument based in the teachings of Jesus who came not for the healthy but the sick or Paul who labeled himself the "chief of sinners."
So, let me get this out of the way. I, Timothy M. King, am a sinner too.