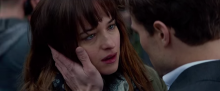 This Valentine's Day, two films will battle for the hearts and minds of the American public. One of them is Fifty Shades of Grey, the popular culture juggernaut that has earned millions of dollars worldwide. The other is a Christian-produced independent film, Old Fashioned, which bills itself as the scrubbed-up, evangelical alternative.
Having faith-based responses to secular media (and saying Fifty Shades of Grey is secular is a little like saying the Grand Canyon is big) is more than appropriate. It's necessary. Otherwise we risk ignoring the vital words of Romans 12:2: "Do not conform to the pattern of this world, but be transformed by the renewing of your mind." Christians and non-believers alike should be regularly exposed to art that causes them to question the world around them.
Sadly, Old Fashioned is not the movie to fit that bill. Both it and Fifty Shades of Grey present dangerously unrealistic portraits of relationships — one just does it without the sex.