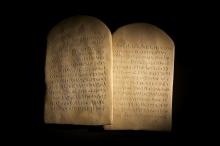 On any given Saturday, people join Habitat for Humanity teams and commit to work to help eradicate poverty housing.  The individual volunteers give of their time, energy and physical ability because they want to be a part of something bigger than themselves.  Similarly, in the HBO TV drama "Game of Thrones," individuals from the fictional continents of Westeros and Essos volunteer to serve as The Night's Watch.  Members of The Night's Watch live as a self-sufficient military order that defends the Wall that protects the Seven Kingdoms and patrols the Haunted Forest.  The Night's Watch oath details the sacrifice of its members:
"Night gathers, and now my watch begins. It shall not end until my death. I shall take no wife, hold no lands, father no children. I shall wear no crowns and win no glory. I shall live and die at my post. I am the sword in the darkness. I am the watcher on the walls. I am the shield that guards the realms of men. I pledge my life and honor to the Night's Watch, for this night and all the nights to come."
Although the members of The Night's Watch are fictitious, they exist in a recognizable bond – a commitment that theologians call a covenant relationship. 
In the Book of Exodus, readers find the beginnings of the formalized covenant relationship between the Israelites and their god.