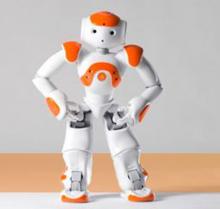 Seminaries have a reputation for being late adapters when it comes to modern technology.
Southern Evangelical Seminary & Bible College in Matthews, N.C., wants to change that. On Friday it introduced a humanoid NAO robot (pronounced 'now').
The 22-year-old Christian apologetics school claims it's the first in the world to use a robot to study the ethics of emerging technologies.
The white robot with an orange cap from the French company Aldebaran Robotics stands 23 inches high and includes voice and facial recognition and full mobility. It translates text to speech in seven languages. The robot retails for $16,000, but Southern got an end-of-the-year deal at $9,300.