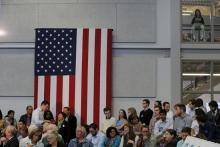 Political candidates are facing a new reality: Within the Democratic coalition, there are more religiously unaffiliated voters than belong to any single religious group.
This is a significant change in American politics, where nonbelief has long been a liability.
Survey data show that Americans with no religious affiliation are a growing share of both major political parties. But the trend is particularly strong within the Democratic coalition, where the unaffiliated now represent 28 percent of those voters, according to a new Pew Research study.