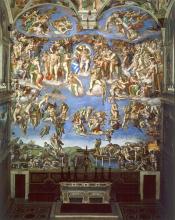 Fifty inmates from a Rome jail were given a private tour of the Vatican Museums on Sept. 13, setting the tone for Pope Francis' visit to a U.S. prison later this month and emphasizing his concern for people on the margins.
The group from the Rebibbia prison visited the Vatican Gardens and St. Peter's Basilica, before being given a private tour through the Vatican Museums by Museums Director Antonio Paolucci.
Once the inmates reached the Sistine Chapel, best known for its world-famous Michelangelo's fresco, the Vatican allowed the prisoners to listen in to the pope's midday Angelus prayer.