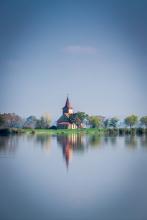 Americans as a whole are growing less religious, but those who still consider themselves to belong to a religion are, on average, just as committed to their faiths as they were in the past — in certain respects even more so.
The 2014 U.S. Religious Landscape Study, released Nov. 3 by the Pew Research Center, also shows that nearly all major religious groups have become more accepting of homosexuality since the first landscape study in 2007.
The new study may provide some solace to those who bemoan the undeniable rise in America of the "nones" — people who claim no religious affiliation.
"People who say they have a religion — which is still the vast majority of the population — show no discernible dip in levels of observance," said Alan Cooperman, director of religion research at Pew.