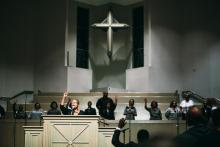 By her own count, Bishop Yvette Flunder has officiated at 149 funerals for victims of AIDS and HIV. Her office in Oakland, Calif., contains the ashes from some of those funerals after family members refused to claim them.
In recent weeks, she's been celebrated and castigated for being an African-American bishop who's legally married to another woman.
But when the time came for her to speak at a small Baptist college in this Bible Belt city, she chose to forgive the black clergymen who called her appearance a "travesty of the highest order."
"I'm not using my energy for useless fights," the third-generation preacher said at the end of a rousing sermon on March 17. 
"I'm using my energy to find peace. Let there be peace on earth."