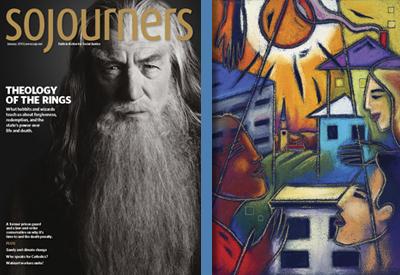 In any genuine community ... self-interest and public interest are not at odds, but are two names for the same thing. —Andrew Delbanco
COMMUNITY ORGANIZING has been around for a long time—certainly long before 2008, when it became a household word during Barack Obama's rise to the presidency. Not that it is understood nowadays any more than before.
I thought I knew what community organizing was when I served as the pastor of First Congregational United Church of Christ and was introduced to a newly formed faith-based organizing project called Inland Congregations United for Change (ICUC) in San Bernardino, California. But I soon learned that community organizing had a different starting point, as well as a different methodology, than I thought.
As a pastor, I had always been concerned about challenging injustice. However, I came to understand that community organizing is less about taking on yet another good cause and more about the important work of building human community.
As such, community organizing is a perfect fit for religious congregations and clergy. It addresses social justice concerns in the larger community, putting democracy to work by giving voice to ordinary families. But more important, community organizing can strengthen the life of the congregation. And it can bring power to the vocation of the religious leader.
There are four building blocks to community organizing—values, relationships, power analysis, and self-interest.
Values. As I was being introduced to ICUC, I was also taking a continuing education course taught by Ched Myers on discipleship in the gospel of Mark. When he learned what our church was getting into, he threw out a challenge with an implied warning. You have no business getting into community organizing, he proposed, unless you ground everything you do in Bible study.
That made sense to me. I opened every meeting of our local organizing committee with prayer and a reflection on the scriptures. Every reading came alive when interpreted through the lens of the urgent needs of our community. For example, as we read the story of Jesus commissioning the 70 to take up his work by going two by two into the neighboring towns (Luke 10:1-11, 17-20), the group immediately saw a direct connection between what Jesus' disciples were doing in Galilee and what our church in San Bernardino was engaged in through community organizing. (And later—debriefing after a visitation campaign aimed at listening to the concerns of neighbors—energized church leaders, like the 70 in Luke's gospel, talked with excitement about how they too had "returned with joy.")
While a professional organizer trained us in the tenets of organizing, it was my job to ensure that everything our church did was grounded in our core values: welcome, service, justice, love. These expressions became fundamental principles of our participation in this work: Organizing should always be values-driven, not issue-driven.
Relationships. During a service of installation celebrating the beginning of a new pastoral ministry, a good friend charged me with words that cut to the core: "Baker, let them know you love them!" That, of course, lies at the heart of every pastoral relationship.
What in ministry is commonly known as a "pastoral visit" is called by another name in organizing: the "one-to-one," or relational visit. Without mutual trust, nothing is possible. Every effective pastor knows how essential it is to take time to get to know the congregation before introducing major changes in worship and administration, to say nothing of challenging the membership to take on a controversial issue in the larger community.
This same attention to building pastoral relationships is extended to lay ministry. With the help of the professional organizer, our church carried out a listening campaign—training laity to do one-to-ones with most of the members to discern their self-interests. There was no promotion of church programming in these visits and no fundraising. (What is it that is so commonly said? The only time anyone from the church calls upon me is to ask for money!) To our happy surprise, we conducted the most successful stewardship campaign in memory six months later. Lay leaders attributed this to the strong relationships developed as a result of the earlier one-to-one organizing visits.
The focus of the relational visits was not to persuade others of the rightness of a justice cause that the church wished to recruit them for, but to listen carefully to what was on our neighbors' hearts and to discern their passions. Because, as the saying goes in community organizing: Power is in the relationship.
Power analysis. As the topic of power is introduced, the comfort level of religious folk can be severely tested. Shouldn't we be about love, not power? This was highlighted for me in a prayer group where we explored a spiritual exercise titled "Power and Love." The meditation counseled that power and love are the two ways of life, but only one of them was recommended as the way of Christ.
The problem in contrasting the two as polar opposites, however, was that power was trivialized and love sentimentalized. If it had not been for my pastoral involvement in community organizing with its emphasis upon power analysis, I might not have recognized this theological issue. The opening verses of the Bible speak of creation as a manifestation of God's power and, therefore, power is essentially good (Genesis 1).
As with every good gift, power can be abused or squandered through human sin. But even a cursory exploration of the New Testament reveals that virtually every reference to power is positive. The gospel is "the power of God for salvation" (Romans 1:16). Christ is "the power of God and the wisdom of God" (1 Corinthians 1:24).
Community organizing also speaks openly and positively about power. How real power is often hidden. How power—our own, as well as that entrusted to public officials—must be held accountable. How there are two kinds of power: organized money and organized people. It was clear which of these was more accessible to our congregation as we became powerful people of faith and more effective in our ministry and mission. As community organizing so simply defines it: Power is the ability to act.
Self-interest. It is in this area that the sheep and goats often go their separate ways. The language of self-interest, central to all political activity, is generally a source of great discomfort in religious life.
Preachers tend to be much more at home encouraging selflessness. Which is why I was caught off guard the first time I was visited (in a relational one-to-one) by our new community organizer. He asked me to identify my church's self-interest. Before I could catch my breath, he then inquired about my own self-interest.
This caused me to think seriously about the critical difference between self-centeredness, on the one extreme, and the equally unhealthy and unfaithful response of complete altruistic selflessness on the other. I began to look in new ways at familiar scripture texts I had preached upon countless times before. As the apostle Paul counsels, we certainly should not look to our own interests. Rather, we should be attentive to "the interests of others" (Philippians 2:4). However, self-interest is not an ending place, but a beginning point. Without a self, there can be no self-giving. The pastor's soul, and the life of the congregation, must be nurtured and taken seriously. Otherwise there can be no ministry or mission.
The attention given in community organizing to self-interest can provide an important corrective to the all-too-common error in religious life of empathetically beginning with the other. Jim Mulvihill, one of our local leaders, testified that his participation in community organizing helped him "to transfer his faith beliefs to everyday community concerns of poverty, social inequities, and political priorities." True leadership requires taking the self seriously as the starting point. Because the goal of self-interest is to build a community of self-interest.
CONGREGATIONS CAN be very effective in sidelining members, to say nothing of ministers who have social justice agendas, by putting them all in a social action committee and then successfully ignoring their pleas. However, the primary objective of community organizing is not any particular cause or issue—no matter how worthy—but the building of a powerful organization.
Organizing is about developing leaders—not necessarily those whom everyone recognizes in advance as being leader-types, but ordinary members of the congregation who are willing to do the work. Looking back over 10 years of implementing the community organizing model in our church, I realized that more than half of our leaders rose from the ranks of the local organizing committee, such as Jean Powers, who remarked: "I continue to be delightfully amazed to see the real fruit of social justice arising out of faith-based community organizing: new leaders developed and being effective, circles of caring community widened, power emerging from the formerly powerless. Thanks be to God!" There is a saying that community organizers train leaders, and leaders do organizing. Likewise, ministers train leaders, and leaders do ministry.
Community organizing introduced me to a new way of understanding ministry that helped me to build the congregation and to become a more effective pastor. Rather than the traditional models I had been introduced to in seminary of the pastor as teacher, counselor, program director, or activist, I took on the role of "organizing pastor." Every task—preaching, praying, prophesying, calling, counseling, administering—came to be viewed through the lens of values, relationships, power analysis, and self-interest.
I discovered that by helping the congregation to discern its self-interest, we became more powerful—better able to act effectively—in carrying out our internal ministry and our external mission. Not only was our church strengthened, but powerful ties with other congregations and clergy were developed that allowed us to take on big issues in the larger community. And I experienced the greatest vocational reward of all—a taste of the promise and the challenge I had received years earlier in my ordination charge: "God did not give us a spirit of cowardice, but rather a spirit of power and of love and of self-discipline" (2 Timothy 1:6-7).
As essential as social justice is to faithful discipleship, community organizing helped me to understand that building human community—in the local church as well as in the larger world—is primarily about manifesting the good news of the gospel. It is about evangelism in its most generous, gracious, inclusive, and expansive sense. To paraphrase the scholar cited at the beginning of this article who addresses self-interest, the good news for the church and the believer and the good news for the public are not at odds, but are ultimately one and the same.
Kendall Clark Baker, pastor emeritus of First Congregational UCC in San Bernardino, Calif., has extensive experience as an organizing pastor, collaborating with clergy and laity of many faiths to improve the quality of life for ordinary families. He is the author of When Faith Storms the Public Square: Mixing Religion and Politics through Community Organizing to Enhance Our Democracy.